It's a fact that more and more individual and big healthcare providers are investing in the development of healthcare apps to improve the quality of their services. According to research by Grand View Research Inc., the global digital health market size is expected to reach USD 295.4 billion by 2028 and is projected to expand at a CAGR of 15.1% over the forecast period. What is the reason for such significant growth? There is an increasing demand for the ability to manage healthcare needs online, given that many aspects of daily life are becoming more digital. With the convenience that healthcare apps provide, more and more people want to use mHealth apps in order to schedule appointments, review their prescriptions, or talk to specialists through a video call for online diagnosis.
However, there are many business advantages that come with the investment in digital products in the healthcare industry. What are these? Continue reading to find out.
The biggest healthcare players invest in mobile apps. Why should you do it too if you want to compete
Telehealth applications are not only beneficial to patients. From a healthcare provider's standpoint, mHealth apps offer many advantages. Based on research done by Deloitte, the 8 top benefits of digital transformation within healthcare organizations include:
Better consumer satisfaction and engagement
Providing your patients with an application that enhances their experience when it comes to managing their health, especially one with functionalities that correspond to their needs, will increase their satisfaction.


Improved quality of care and patient outcomes
Thanks to the on-demand nature of digital solutions, your patients will have the possibility to access all the necessary functionalities when they need them. This means they will be able to receive the help they need in a faster manner, without having to e.g. drive to your clinic.


Ability to compete better with traditional players and disruptors
Entering the digital sphere means that you will have the competitive edge over healthcare providers that rely on traditional working models. Moreover, you will be able to reach and attract more patients who want to manage their health using digital solutions.


Revenue growth
By incorporating a digital app into your revenue streams, you will see your revenue grow in two ways: on one hand, the app will offer you an additional monetization method, and on the other hand, it will decrease additional costs, for example, in booking appointments.


Improved cost efficiencies
One of the ways that investing in a digital solution improves the cost efficiencies is that by enabling appointments to be made via mobile or web applications, there is a decreased need to employ a large team of people to handle bookings manually.


Increased agility and scalability around technology
After the initial investment in the application is done, it is easy to scale it up or down depending on the needs. If you find that your application is lacking a certain functionality, it is easier and faster to develop it and introduce it to your target group.


Better staff and employee satisfaction
A digital application can be also used to track and analyze your employees' satisfaction. The ability to gather feedback from your staff will provide valuable information, so you can adjust and deliver results that your employees want.


Better data-sharing and collaboration with health players and other health systems
One of the most important reasons to invest in a digital application in healthcare is the possibility of storing valuable data in a more secure and efficient way. Having the data in the cloud, for example, makes it easier to analyze it and share it with other healthcare professionals.
In addition, digital technology enables patients to provide real-time feedback so that regulatory reporting can be completed within a few months rather than months. With quick feedback, consumer issues can be resolved much more quickly than with previous non-digital solutions.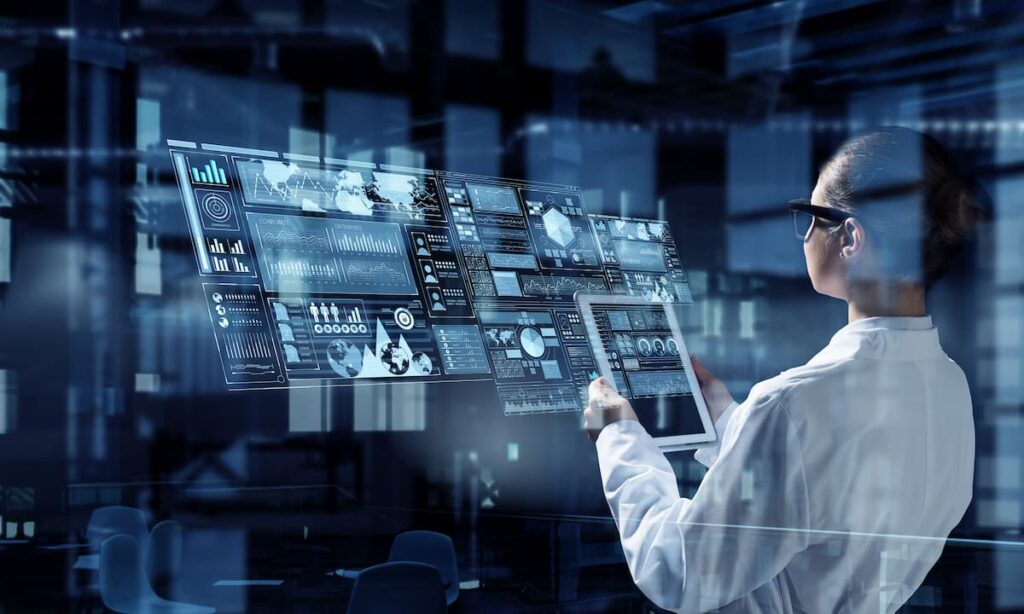 What functionalities to include in your mHealth app in order to ensure its success?
Taking the above into consideration, healthcare apps offer many benefits not only to the patients but also healthcare providers themselves. However, most of the apps fail to meet the patient's expectations, and thus do not support the business needs of health companies. To visualize the problem, let's consider the app usage data. There are more than 400,000 healthcare apps available in the app stores but most of the healthcare apps have less than 10,000 downloads. How to design and develop a mHealth app that will be among the successful ones?
There are several functionalities that a mHealth application should have in order to be engaging and successful. We discussed them in detail in a recent article on our blog. You can find it here.
Do you want to develop an eHealth mobile app but don't know where to start? We can use our experience and discuss your idea with you. Contact us using the form below and one of our colleagues will reach out to you to schedule a non-binding call.