Over the last 20 years, healthcare institutions have been increasingly investing in digital transformation. At the beginning, the adoption of digital technologies focused for instance on investing in electronic health record (EHR) systems without changing the business or customer models. However, that has changed when the COVID-19 pandemic started. It accelerated a couple of trends including the shift of consumer preferences, adoption of rapidly evolving technologies, and clinical innovation. As a result, virtual health and care on demand became not only a necessary form of providing healthcare but also a preferred one.
As the need for eHealth mobile and web applications continues to grow, how can healthcare providers make sure that investing in digital solutions will provide a return on investment? Our article examines the functionalities that a well-designed healthcare app should have in order to ensure its success.
Developing a successful mobile app for telehealth: functionalities that your app should have
Generally speaking, every healthcare-focused mobile app should address three universal user needs: the need to schedule or cancel appointments, the need to access medical records, as well as the need to request prescriptions. According to data available online, only 11% of the hospital apps address one of the above requirements, resulting in, as little as 2% of engaged users. What functionalities to include in your app to ensure its success? Taking into consideration what patients want from a mobile app is one thing but building a healthcare app to meet those expectations is quite another, you, as a healthcare provider, have a high opportunity to improve your patients' satisfaction through a mobile app.
Apart from the three ones we already mentioned above, you should consider the following:
Easy access to functionalities and a UI for a better experience
All the features of a healthcare app should be easily accessible to the end-users. The majority of patients want to use an eHealth app to save time on booking, changing, or canceling appointments. If your mobile app will have a complicated architecture and will require a long time to figure out how to access the most crucial functionalities, the users will most likely not engage with it. What is more, since healthcare applications are used by users from various age groups, the UI of your app should be user-friendly and easy to follow. The data indicates that 21% of millennial users delete an app if they don't like the digital experience it offers. On the other hand, if you want to target older people with your app, it should have bigger icons and larger texts for a better user experience. It was proven that mobile healthcare apps that provide attractive data visualization tend to engage and retain patients much better.
Secure personal account
It is crucial to give the user the option to create their own profile where they can collect all the essential health-related information, such as age, gender, recent test records, symptoms, known health conditions, medications, and geolocation. To ensure data safety, a healthcare app should moreover include a verification system. This way, the provider can be sure that the profiles are genuine and avoid scam accounts. Plus, the verification adds to the trustworthiness of the app, so more users may be interested in downloading it.
In-app chat to communicate with professionals
One of the most important features of a mobile healthcare app is the possibility to interact with healthcare professionals. Nearly 75% of hospital visits, according to the study, are very basic and can be handled through a phone call or video call. As an added benefit, telehealth services enable patients to save time and resources on hospital visits and allow doctors to offer more personalized care to their patients. Providing a platform for doctor-patient interactions became more valuable and sought-after during the COVID-19 pandemic when non-face-to-face interactions were preferred. The demand for a service like this, however, will continue to grow due to the benefits that online visits offer.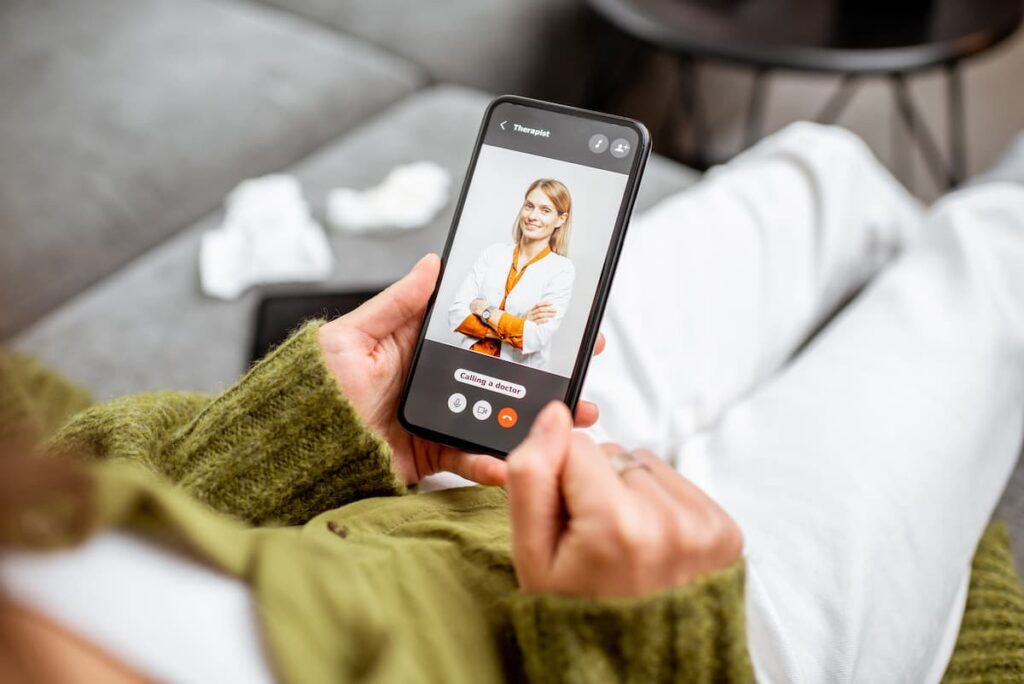 Access to medical records and possibility to request and store prescriptions
As mentioned previously, the functionalities to access the medical records as well as easily request prescriptions are crucial in any telehealth application. The option to store, record, and share personal medical data with doctors or healthcare providers makes it easier for patients to keep track of their health. Furthermore, a growing number of patients want to have convenient access to their prescriptions and request them when needed. A modern healthcare application should for this reason include this functionality.
The possibility to chat with other patients
Patients want to connect and interact with one another. In this regard, it may make sense to add a community feature to your healthcare app. A study published in the Journal of Medical Internet Research found that patients' access to social platforms can enhance healthy behaviors. According to the 217 users surveyed, more than 56% of them believe that others want them to live a healthy lifestyle because the social aspect of the app offers encouragement to do so. However, there are many benefits of adding social features to the app. In the event of a diagnosis of a specific illness or disease, chances are that the individual will want to connect with other patients in the same situation to seek comfort and the possibility for a conversation.
Integration with Wearable Devices
The popularity of wearable devices has been growing steadily in the last couple of years. Currently, as the new study by Juniper Research shows, the healthcare wearables market will reach $20 billion by 2023. Considering such significant growth, there is a great opportunity to reach more potential users by developing a healthcare app that can be easily integrated with wearables. Wearable devices can measure vital signs such as heart rate, blood sugar, tremors, posture, sleep patterns, and physical activity. This data can then help patients learn more about their fitness routine and be more in charge of their health. As a result, wearables may keep patients from going to intensive care units as often as they normally would, which would translate into significant savings.
Validating the application objectives and functionalities with Product Design Workshops
Considering the recent statistics, there are more than 400,000 healthcare apps in the app stores but most of them have less than 10,000 downloads, it's clear that these apps don't offer functionalities that engage the end-users fully. This gives you an enormous advantage, especially if you decide to put your healthcare mobile app to an evaluation during a Product Design Workshop. Doing so will increase the chances of success of your digital project by evaluating your exact idea during user interviews with people matching your particular target group.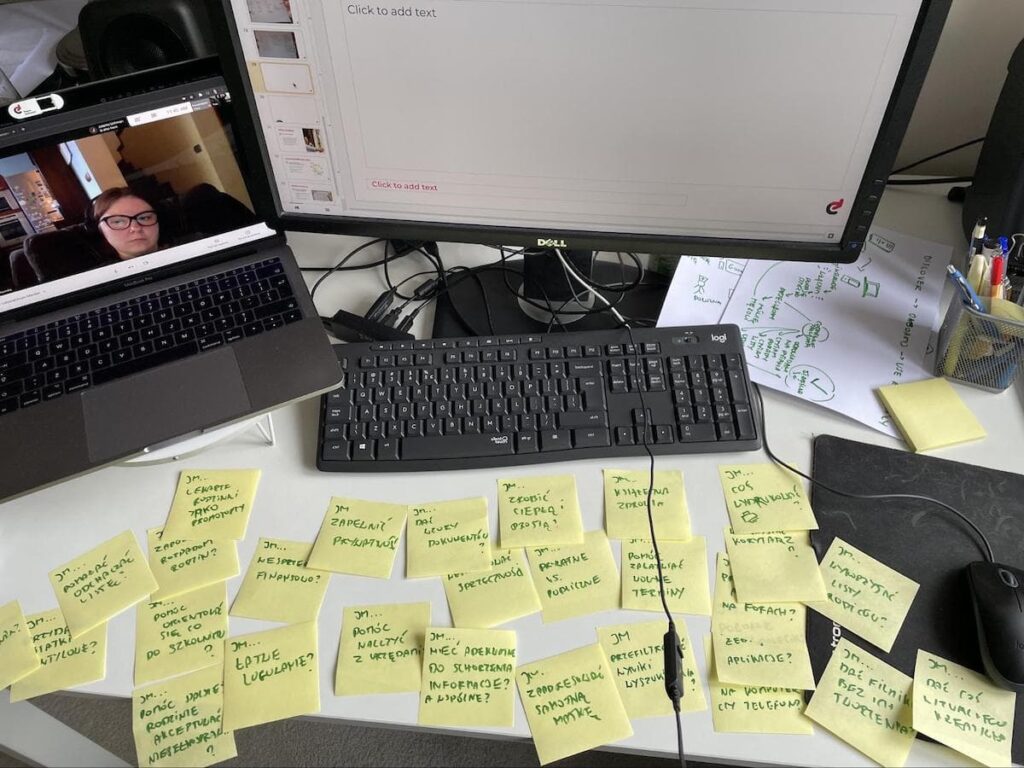 This process has already helped many organizations make informed decisions about the direction of the development of their digital products. One of them was Laboratorium Marzeń, a non-profit foundation which focuses on helping families with premature infants and children who require special attention. As a result of a conducted product design workshop, they discovered which functionalities will really change lives of their target group and should be developed in the first iteration and which are redundant and would only be a waste of the development budget.
Summary
Healthcare providers are increasingly recognizing the benefits of digital transformation such as improving patient care and strengthening customer relationships. As a result, more and more of them decide to invest in mobile applications. However, in order to succeed with such an endeavor, it is crucial to consider the actual needs of the patients and the possibilities of how to address them.
Do you want to develop an eHealth mobile app but don't know where to start? We can use our experience and discuss your idea with you. Contact us using the form below and one of our colleagues will reach out to you to schedule a non-binding call.