In the first part of this article, we discussed the advantages of relocating to Poznań and the most significant facts about Wielkopolska's capital. In the second part, we want to share the more entertaining part of the city. Continue reading for the best tips and recommendations!
In this article you will find: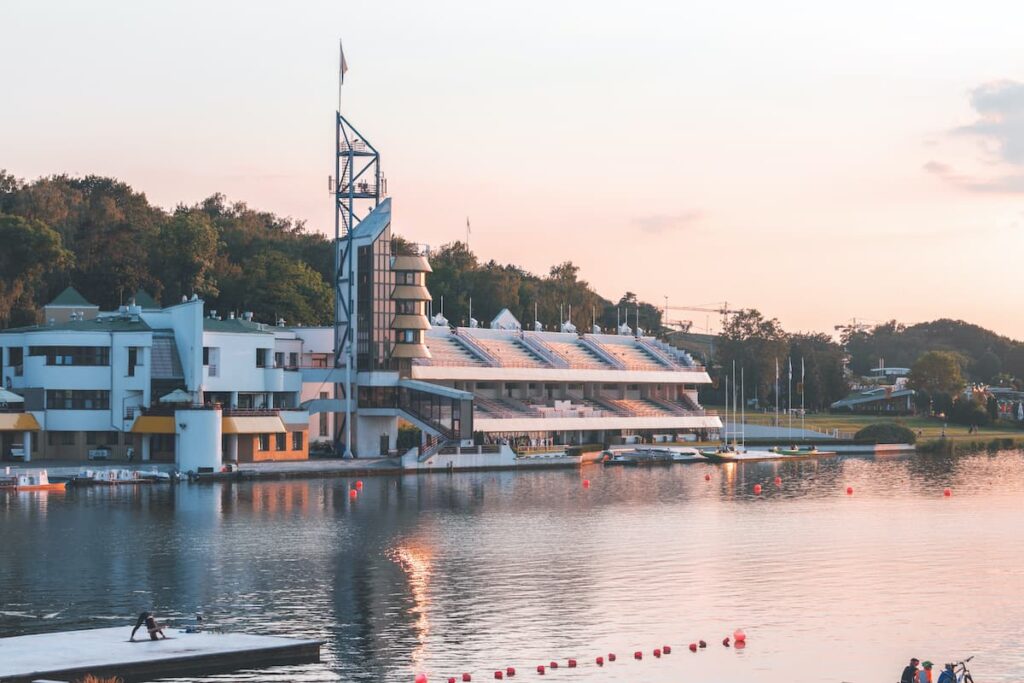 A visit to Poznań is not complete without visiting these places
Old Market Square
This is the absolute tourist center of Poznań, also undoubtedly the most photographed place in Poznań. The Old Market Square is the central element of medieval Poznań. It is the third largest market in Poland (after Kraków and Wrocław). The accumulation of monuments from almost all eras, several dozen restaurants, cafes and pubs in the vicinity as well as numerous events make it attractive. It is also here that you can see the famous Poznań tin goats.
Lake Malta
Lake Malta is an artificial reservoir that is over 60 years old. The longitudinal shape of the reservoir allows the largest rowing and canoeing events, including the world championships, to be held on Malta. Additionally, there is an all-year-round artificial ski slope, a toboggan run and an aquapark with a thermal complex at the lake. For adrenaline fans, there is a modern wake park and bungee jumping area, and for families with children there are several playgrounds, a rope park and many other attractions.
Ostrów Tumski
The former cathedral island is one of the most charming parts of Poznań. With the cathedral dominating the whole, the small Church of the Blessed Virgin Mary, cobbled streets running in the place of former ramparts and historic houses of cathedral canons standing in the gardens.
What the nature in Poznań has to offer
Cytadela Park
Cytadela is the largest city park in Poznań (100ha). With many places to relax, cafes and fountains, it can be called the green lungs of Poznań. If you have a dog, it is also a great place for walks and meeting other animal lovers.

Rusałka Lake
One of the most beautiful lakes in Poznań. It can be accessed from the city center in only 15 minutes and there is a path around the lake that can be traversed by bike or on foot. You can also lie down on the beach by the pier or rent a canoe. You will find a volleyball court and a restaurant there as well.

Szachty
Szachty is a unique place that even few Poznań residents know! It may not be the easiest way to get there, but it's definitely worth it! You will find there many smaller and larger ponds surrounded by paths for leisurely walks and a lookout tower overlooking Poznań.

Poznań's Old Zoo
If you want to relax in the bosom of nature while admiring wild animals, the Old Zoo in Poznań will perfectly combine both of these things. It is not only a place of protection for many wild animals, but also a beautiful park, perfect for walks.

Wartostrada
Along the Warta River, through the center of Poznań, there are bicycle and walking paths, where you can meet sports enthusiasts every day. Additionally, on warmer days, it is the main place of many Poznań residents for social meetings and grilling. There are atmospheric bars and restaurants along the river, so you won't miss anything while relaxing.
Cultural part of Poznań
If you love art and would like to participate in live cultural performances, Poznań will not disappoint you. Places you should visit:
Check out the first part of the article here.
Nightlife in the city
Nocny Targ Towarzyski (NTT)
It is a meeting place where you will dance and discover the flavors of different continents thanks to the food trucks set up. In the area of the NTT there are several stages where concerts or just parties are often held. Additionally, NTT is also a cultural meeting place, where conversations with famous people or thematic events are organized.

KontenerArt
By the Warta River, a 10-minute walk from the Old Market Square, you can find a space made out of… containers! Several bars inside, restaurants, stage, beach and plenty of chillout space. During the week you can come to dance lessons and at weekends to concerts, stand-ups and parties.
Wrocławska street
The most lively street in Poznań. It is located right next to the Old Market Square and you will find many clubs with various types of music, restaurants and bars. If you are the partygoer type or just want to discover the nightlife in Poznań, Wrocławska Street is the perfect place.

Szeląg
If you prefer to rest away from the city center, meet with friends in an intimate place and listen to quiet music – come to Szeląg. It is an extremely atmospheric place surrounded by trees, on the banks of the Warta River, where the bar is made of containers and you can relax on comfortable deck chairs and hammocks.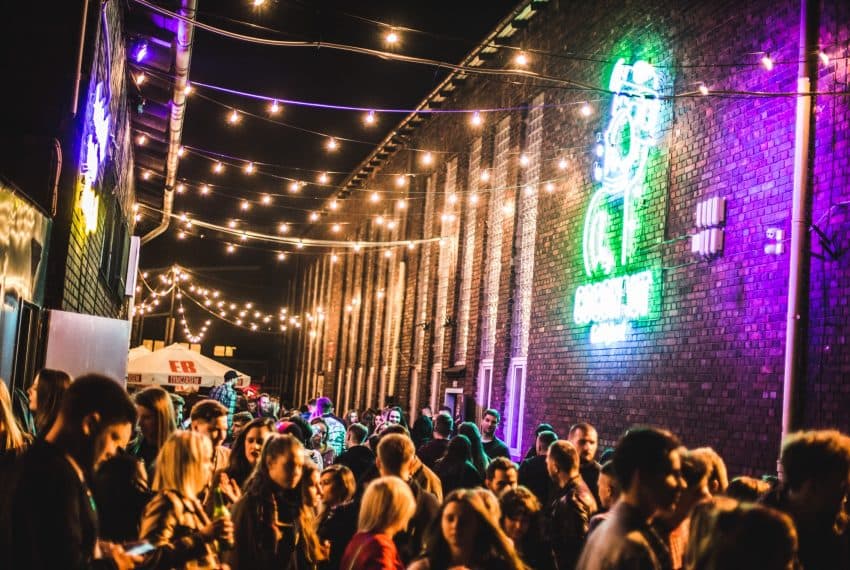 Poznań has a lot to offer to sports fans
Wartostrada
Do you like running, cycling or rollerblading? Along the Warta River you will find a perfectly prepared ground for practicing all kinds of sports, while admiring Poznań in the bosom of nature.

City Ice Rinks
For fans of skating, in winter there are several ice rinks, including the largest in Poznań – Chwiałka Ice Rink.

City open-air gyms
The City of Poznań has prepared many outdoor gyms, available to everyone 24/7. Their full list you can find here.

Biking
Poznań is a city that has been perfectly adapted to getting around by bike. Here you will find many paths and special bike routes. A detailed map describing each element of the bicycle infrastructure can be found under this link.

Wakeboard
If you are a fan of this sport, you will find many spots to practice it in and around Poznań. One of the most popular is Wake Park Malta, which is located opposite the Espeo headquarters!
Poznań's cuisine that you have to try!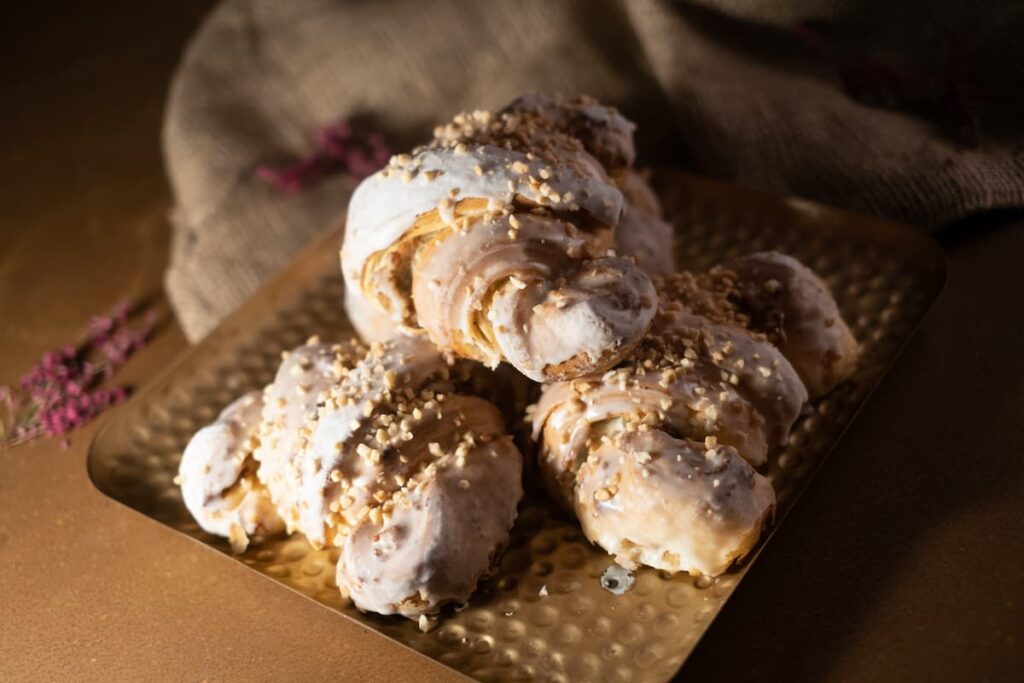 The Greater Poland region where Poznań is located is famous for its delicious, varied cuisine. Traditional Wielkopolska dishes are:
Pyra z gzikiem
A simple and most popular dish. "Pyry" means "potatoes" in the Wielkopolska dialect, and "gzik wielkopolski" is a white cottage cheese mixed with cream, onion and chives.

Duck in Wielkopolska style
This is an aromatic duck baked with apples and seasoned with herbs. Peeled, sliced ​​and seedless fruits are placed inside the duck. All of the ingredients are placed in a roasting pan with olive oil, which goes into the oven.

Rogale Marcińskie (Saint Marcin's croissants)
A delicacy that every Poznań inhabitant loves! On St. Martin's Day, which falls on November 11, St. Martin's croissants reign. During the celebration of St. Marcin in Poznań, there will be plenty of them at the nearby stalls and in local bakeries. The croissants are made of semi-French dough, stuffed with white poppy seeds, nuts, raisins, candied fruit, sponge cake crumbs and almond flavor. The dough is rolled into a horseshoe shape, and its individual layers are interleaved with poppy seed mass. The top of the croissants is decorated with frosting and pieces of nuts. There is certainly no shortage of sweets here!

Ślepe Ryby z Myrdyrd ("Blind fish with Myrdyrda")
"Blind Fish" is a dish from Wielkopolska with a misleading name because it does not contain any fish. It is a potato soup without any meat.
Pampuchy
Pampuchy are rolls made of yeast dough, steamed and served while still warm in salty (e.g. with mushroom sauce) and sweet (with sugar / jam) versions.

Parzybroda ("The Bearded Man)
Soup made from young savoy cabbage. The ingredients include potatoes among other vegetables, dried mushrooms and pieces of meat. Usually served with bread and in the fasting variant, served without meat.
Where can you find traditional dishes from the Wielkopolska region?
Here is a list of a few restaurants in Poznań, where you can try the dishes mentioned above:
Were we able to satisfy your curiosity and calm your nerves about relocating? We hope this article inspired you to visit Poznań city, even for a weekend!
Experts from all over the world work at Espeo. Become one of them and join us while working in one of the most beautiful cities in Europe!