If there's one thing our report shows best, it's that much potential lies in wearable tech. However, it won't be enough to simply jump on the bandwagon without a solid strategy and knowledge of the industry. Understanding the characteristics of the devices, tailoring apps to fulfill real needs, and paying close attention to the research conducted so far are the ways to proceed on the potentially disruptive wearables market.
Our report, The Future of Wearable Apps, is already available for download.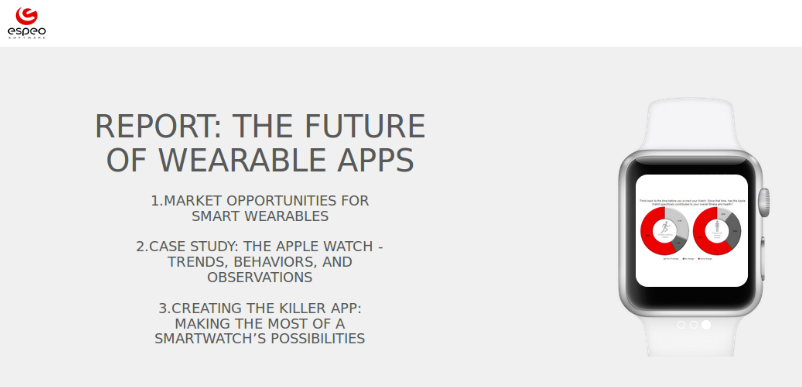 In the first part of the report, we discuss the predictions and statistics pertaining to the industry. According to a widely-quoted prediction, wearables are set to be a $12.6 billion-valued market in 2018. Even the pricier gadgets like the Apple Watch have been marked as worth their price tag by respondents. Recent studies demonstrate that the smartwatch – in our opinion, the key wearable device of the near future – is starting to mirror the adoption rate of the tablet.
The Apple Watch is billed as one of the top gadgets this holiday season. It also drives much of the interest in wearable technology, so we give it a special focus. Our Apple Watch case study, created in co-operation with Wristly, demonstrates that while some are still waiting for its second edition, most of those who have bought the device are pleased with what it has to offer. An especially appreciated feature (by nearly 30% of the surveyed Apple Watch users) is the capability of the watch to track activity. 70% of respondents state that they use Activity Rings more often than they expected. Health & fitness is where much of the potential lies for businesses. Detailed information on this – and more – can be found on the charts and graphs included.
However, improvements must be made in the quality of third party apps. Basing on our experience and expertise as a software house, we've come to the conclusion that a real game-changing moment would be the creation of a 'killer app' for the smartwatch. We list the characteristics of such devices, and what they should mean to startups and entrepreneurs considering entering the smartwatch market. Among other topics, we discuss UI, the contexts of use, performance optimization and the target customer.
The report is a downloadable PDF available for free at espeo.eu – reach out if you have any questions or comments, we'd love a discussion!