2016 might turn out to be a very special year for wearable health technology. This is mostly due to the fact that digital health is a rapidly growing segment, where new solutions are constantly being tested. We've been focusing on wearables for a while. In the beginning of February, we decided to see what an industry so keen on innovation may think. We directed our questions at over 400 people with CEO, CTO or specialist status in the healthcare industry.
We think wearables may greatly impact business growth. They're also likely to bring improvements in quality of life. As it turned out, the surveyed group confirmed many of our thoughts.
Digital health is a hot topic today, and wearables are a part of this movement. Consumer-based solutions are also sometimes included in the mix. We were interested to know whether professionals see wearable health technology as truly influential.

The answers to this question were already telling. We noted that over 72% of those surveyed agreed that wearables have a significant influence on the healthcare industry. What's more, over 15% stated that we might be talking about a 'huge influence'. Though doctors (who often voice concerns) weren't our main focus, we expected more sceptics. This is certainly a promising result for wearable health technology.
Along with questions related to evaluation of the impact of wearable tech on the market, we also asked specific business questions. What can businesses gain from wearable health technology? We asked professionals to evaluate whether this technology gave them what they wanted. It appears the profits gained from wearables in healthcare don't disappoint.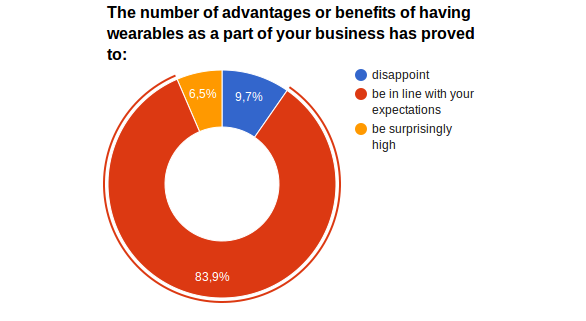 Respondents also noted that wearables brought them not only financial profit, but also image-related benefits. We also asked whether they plan to continue investing in wearable health technology. All our results – plus our analysis of the survey and a market evaluation – are downloadable for free at espeo.eu

Follow our Twitter for updates & news!
Follow @espeo_software