The goal of the following article is to show the advantages of the Product Design Workshop methodology that we use at Espeo Software in greater detail. The material is based on one of our projects focusing on improving the client's product in accordance to the actual needs of the users.
Making design decisions based on analytical thinking
The methodology we used was User Centered Design as it includes users at every stage of the design process. The process consists of discovering user needs through interviews, prototyping the solution and validating it with usability testing. To read more about this process, head to our UX page.
Preparing for the interviews
Firstly, we gained domain knowledge of the industry of the client. Our research on the topic was complemented by a discussion with the client's product group and designers during which we were able to ask detailed questions. Next, we created a user interview scenario. It included the profiles of the ideal users that should be interviewed, most important questions to ask them as well as assumptions that we wanted to verify.
User interviews
In total, we conducted five one-hour-long interviews which were focused on discovering the users' needs and priorities. The end users we conducted the interviews with were different customer types of the product and they had various needs using the same solution. Some of the interviewees were actual users of the client's solution. Thanks to this, we were able to ask them to provide feedback on the existing solution.
Download additional materials about Product Design Workshops and ensure that your final product realizes key business goals and delivers a top-notch user experience
Design Sprint Workshop
Next, we organized a Design Sprint Workshop in which representatives of the company took part in (product design, product management and architects). During the multi-day workshop conducted over several days in short interactive online calls, we focused on performing particular exercises. They included user journey mapping, analysing the reference solutions and prioritising user needs. If you want to learn more about the workshops, download our Product Design Workshop materials.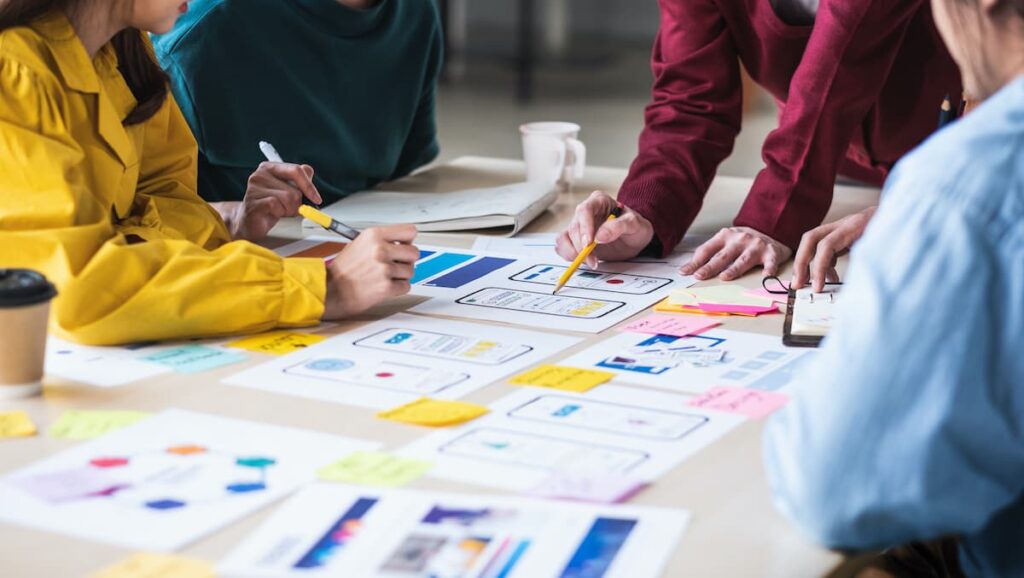 Prototyping
During the product design workshop, we asked everyone from the product team (designers, product managers, architects) to participate in paper prototyping by drawing a sketch of the solution. After that, we combined everyone's ideas and assembled them in a black and white, low fidelity (lo-fi) prototype. This allowed us to explore multiple solutions for problems without worrying about the UI design. This way, it was possible to gather feedback from the team and easily include it in the prototype without spending too much time on it. After the team feedback for the lo-fi prototype, we updated and converted it to a high fidelity interactive prototype, built with HTML/CSS (Webflow) and simple Javascript coding.
Time and time again companies have trusted us as a software development provider. Read more about some of our projects and find out why.
Usability testing
We presented the prototype to the customers with different work roles who we interviewed at the beginning. This time we were not asking general questions. Instead, we asked people to click through the prototype and perform specific tasks. As a result, these usability tests enabled us to fix multiple issues and discover missing parts that we added before finalising the project.
Deliverables
Interactive prototype – advanced simulation built with HTML/CSS
Lo-fi prototype build with Figma
User testing scenario
Use cases excel sheet based on user interviews
Workshop slides deck (receive an example Design Sprint deck from our resources)
Summary presentation with User Testing insights
Incremental Development plan – MVP scope recommendation
Technical recommendations document (architecture advice)
Outcome
As a result of our cooperation the client:
Discovered the importance of a certain user need, which had a huge impact on the whole project.
Received a validated and super-detailed design ready to develop with high confidence. Thanks to this, the company will save time and money during the development process.
Gained a better understanding of their end users' needs. The client is thereby able to provide them with a feature which will improve their daily work.
Learned the power of user interviews and prototyping.
Meet the mastermind behind the Product Design Workshops
Maciej Sawicki is the Lead UX Designer with more than 10 years of experience in the interactive industry. Maciej is a curious and accomplished expert, focused on the User Centered Design process and delivering high-fidelity interactive prototypes and using them in user research. By proactively asking for peer reviews and feedback, he constantly improves the quality of his work. Analytical thinking and always looking for the right balance between design needs, implementation costs and impact for users are some of the traits that distinguish his work ethic. Highly productive, efficient and always on time – never missed a deadline.
If you want more in-depth info about our way of work, take a look at our UX FAQ and check out the article about our UX project with Laboratorium Marzeń Foundation.