I've recently had a chat with three developers. Each is responsible for coordinating cooperation between a foreign client and our team. Occasionally, there were other teams involved that they needed to be in touch with. Our devs shared the best practices for remote development communication for the client — guaranteed to keep both sides happy. We've put the top ones on a handy infographic.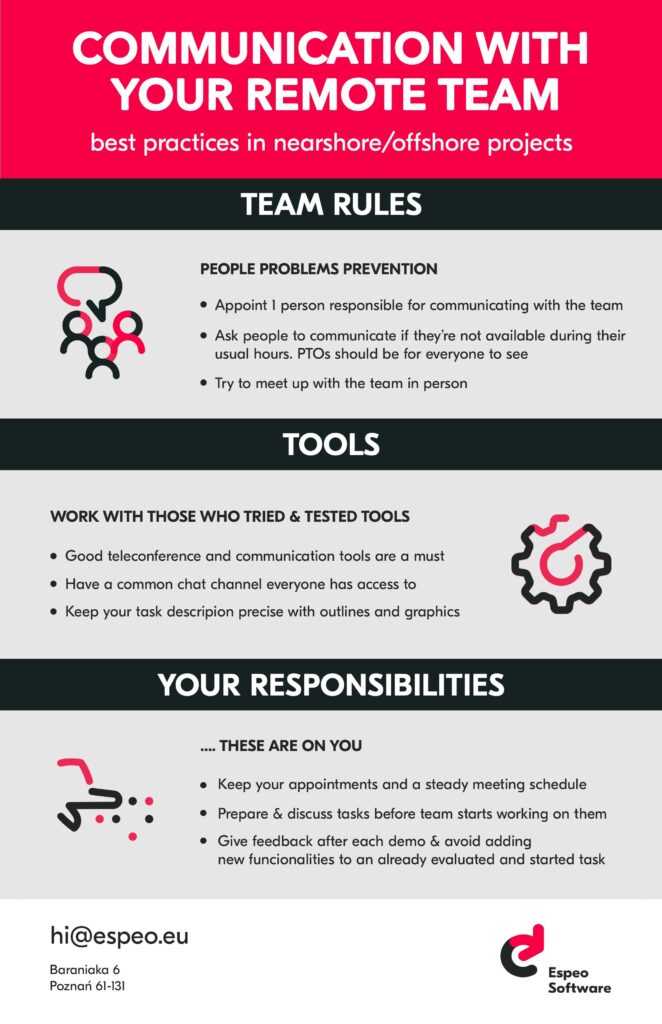 It's important to select one person responsible for communicating with the remote development team. However, it's also good to schedule personal conversations between a team member and the client. Just in case any bigger issues pop up (not that you're anticipating any). You can run a successful project without being in the same office as your developers. Things do work out even if your local team never sees the remote development team in person. We've done it ourselves. But it never hurts to get to know the people. We always encourage clients to come over. The distance is much shorter than they think.
There were some tougher issues the devs agreed on. Some of the most common technical mistakes include adding new functionalities to a task is already in full swing. It's also good to reconsider insisting on technologies not recommended by the team and avoiding the topic of application tests. Meetings can't be wasted time. Set a goal beforehand.
Do you want to learn what questions to ask a software development partner before outsourcing your project? Check out the article: Before You Start Outsourcing Software Development
Good tools and a common chat channel are an obvious must. Teleconference devices and software must be working well. Issues with them will slow you down and discourage good communication. Having the teleconference channel open from time to time during normal work hours might enhance the relations between the team members.
What also integrates the team is a common reliance on a good working methodology. We're agile — and it works. For example, it's vital for you to prepare and discuss the tasks before the team starts working on them. Backlog grooming is a technique that can help you with that. Last but not least, documentation is important, as always!
Ready to build your next project with us? Let us know and start your journey towards a successful digital product!