Nowadays, if you want to hire a good programmer, it's up to you to show initiative, not the other way round. It may be especially difficult for companies who develop solutions based on Blockchain technology, because finding a highly-skilled software developer in the business is extremely hard. That is why we have prepared a few tips, which will help you find specialists who perfectly understand specific character and the needs of the world of cryptocurrency as well as the branch of finance and technology.
A Blockchain programmer = a gold mine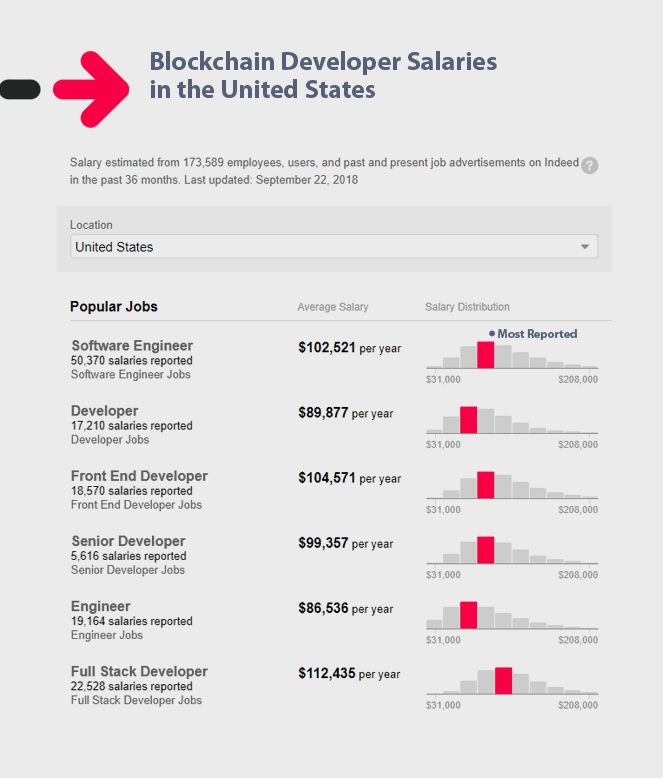 A practical knowledge of Blockchain technology, similarly to artificial intelligence, is something only a small group of experts possesses. Finding people with suitable qualifications on the subject is a complex process; it may take, even the best and the richest companies, several months before they decide on a right worker. Not long ago, Blockchain was known only to a few enthusiasts. Now, this knowledge has become invaluable, hence, HR departments go into great deal of trouble to find suitable employees.
In his book William Mougayar wrote that according to his estimates, only about 5000 programmers were dealing with creating software connected with cryptocurrency, Bitcoin or Blockchain in general, in the second half of 2016. Not only is it a niche but also due to the cyclomatic complexity of the code, the cost of hiring such specialists is high. A Blockchain programmer's pay is still much higher than other software developers, who naturally have no reasons to complain about their salary. The average salary for blockchain developer in United States ranges from approximately $86,536 per year for Engineer to $112,435 per year for Full Stack Developer.

It is worth adding that an increasing number of employers is interested in app developers for Bitcoin, and those specializations are divided more and more often, because Blockchain may be useful not only for cryptocurrency.
Understanding the needs of Blockchain technology lovers
You should consider the fact that Blockchain enthusiasts are people deeply engaged in their passion and the technology only recently has began to be used commercially. Blockchain developers usually differ from other employees because the best and the most experienced ones are people fascinated with it. Blockchain enthusiasts are connected by their common vision of the future, which focuses on substituting traditional solutions and financial means with completely innovative methods. The Blockchain community is a group of people, who has fixed ideas on the subject of new technologies and they have been developing their skills mainly to help improve the ideas with which they identify themselves. In order to attract the best candidates for your company you should respect these ideological bonds.
You will have to deal with real geeks that so consider that these people may be interested only in the projects which are intriguing and worthwhile from their viewpoint. This is a key issue for them, it is often more significant than the salary and other benefits connected with working and cooperating with your company.
Be where your potential candidates are
If it's very important for you to find a good programmer, you should look in places which are popular among them. People who know Blockchain technology, and there are not many who do, don't look for a job on their own, because Blockchain has been developing dynamically, and, what has already been mentioned in this article, there is a huge shortage of people familiar with it. In their case, the job finds them, that is why you have to know where to look for and find are a real gem. Naturally, you can try LinkedIn, but it would be better to hit a website mainly for programmers, such as Stack Overflow or, very well known in IT business, GitHub.
See also: How to Find a Good Programmer: Check before Hiring
If these place don't help, you can always research groups (e.g. on Facebook among other) or forums where Blockchain technology enthusiasts meet and discuss. As it has already been mentioned, Blockchain programmers are usually real enthusiasts, that is why most of them are engaged in discussions about the latest projects, solutions and novelties in the business. In the case of blockchain technology traditional Linked In and Facebook groups may not be enough. You should definitely broaden your searches to new social platforms like Telegram. This cloud-based messaging application was created by Pavel Durov and his brother. Durov describes himself as a libertarian and is well known for his devotion to political freedom and autonomy – an ideology of self-governance which is often close to crypto enthusiasts' mindset.
Here is the list of some of the most popular blockchain technology forums and social groups you may be interested to explore when hiring blockchain developers:
Facebook
Linked In
Telegram:
Don't limit yourself only to an online research and widen your search scope by meetings and events organized by Blockchain and cryptocurrency fans.
Introduce employee referral bonus program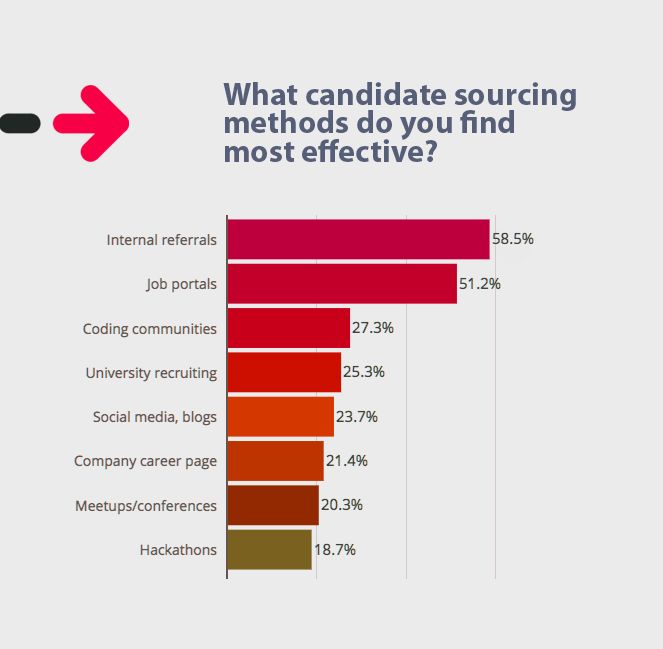 We have already agreed that finding Blockchain programmers is a challenge and it is sometimes close to the impossible. We also know that people who work with this technology are often real geeks and enthusiasts who belong to a community with similar aims and values. So, if there are people who work in your company and are familiar with the subject, use them – here, it would be a good idea to propose a referral bonus program. Maybe, you've already got the best researchers and headhunters and what you need is to set a suitable bonus for anybody who will spread the word about your offer among colleagues, with whom they discuss Blockchain on a daily basis.
"2018 Tech Recruiting Report" prepared by Stack Overflow showed that employee referral system is the most effective method of recruiting new employees according to recruiters and IT managers. So, if you haven't used this system yet – maybe it is time to do so.

Source: https://research.hackerrank.com/tech-recruiting/2018/
Prepare an interesting and attractive job offer
When you find the "perfect candidate", you should interest them with your offer and convince them that your company is a place worth working for. A well prepared job offer is bound to help convince a potential employee, but to do so, it needs to provide as much information about the position as possible. Focus on standing out and make everything in your power to attract the candidate's attention. Programmers like hard facts, hence you should prepare an advertisement which will present your projects in detail, together with job methodology, technology that is used and so on.
Provide information whether you offer remote work as well as all the perks and benefits in your company. An interesting solution is posting projects designed by the company on GitHb server. Maybe one of the projects you are working on will be of interest to a potential candidate. Blockchain specialists value autonomy, so think, if you can give your workers a free hand with the choice of tools and technologies and also give them freedom to run projects. This is what we do at Espeo Blockchain. Show the development possibilities you are able to provide, inform your candidates whether you send your employees to trainings and conferences, and explain the career path in your company. Such details will be definitely more interesting and valuable for experienced Blockchain programmers than a clichéd phrase about "a young and dynamic team".
Take care of your present employees
To find new employees it is crucial to take care of all those who are already part of your company. It's much easier (and cheaper) to maintain and train the best specialists that you already have in the company rather than constantly looking for new ones. That is why HR departments should focus on meeting the needs of the people who are already employed to make them feel comfortable in the workplace. What will positively influence employer branding of any company is a clear pay system, where new and less experienced workers will earn less than those who have been working there some time now. This way you avoid a sense of injustice and each and every employee will know what to expect. In the case of programmers, who like to be in the clear, such a system will prove especially useful.
Another thing is to care about employees in almost any aspect of their lives. In order to provide it, consider introducing well-being services, which will improve both the mental and physical health of the people you employ. This way your workers will stay motivated and satisfied. They will also gladly recommend your company.
Finding a qualified Blockchain programmer is a difficult task, which usually takes a lot of time. Despite a huge niche on the market, you should remember that it is worth finding somebody who will match your company's organization culture and aims. An ill-suited worker can do more harm than good and in the end will lead to lowering your team's effectiveness.
See also:

[contact-form-7 id="13387″ title="Contact download_8_reasons"]