Understanding our clients' visions has always been our top priority. Our project managers do everything to deliver the best solutions to business challenges, allowing your business to prosper. If you're interested in knowing how we work, please have a look at our PM's checklist and see what we do to guarantee satisfaction and maintain the highest level of customer service.
Set yourself up for success: How to start an application development project.
Choose a client-focused provider
Apart from providing you a successful app, we do our best to guarantee full satisfaction. It not only applies to a finished product but also to our approach during product development.
Espeo's Software Consulting Director, Dominik Zyskowski says, "We need to be technical consultants to figure out the best approach with the client first and then to tweak this idea and to keep being creative and motivated to deliver the increments of the product of most value." We take a highly individualized approach to each client and focus on their needs and business plan. Our experienced team offers valuable advice and can guide you in your software development project. We support clients from start to finish and work together to create a successful app.
The most challenging role is making sure that the clients are happy with our work and our developers remain motivated. "We have positive feedback between clients and the team. We amplify one another," says Zyskowski.
But how do we work to achieve such good results and positive feedback? A key role in this process is, of course, our project manager. He is responsible not only for managing projects and ensuring that management goals are met, but also strives to meet the client's expectations. He still has to make sure the client is happy with our work. His job is a very dynamic and flexible activity, so he has to have the whole list of tasks and steps, which help his team to achieve the best results.
Pick an agile team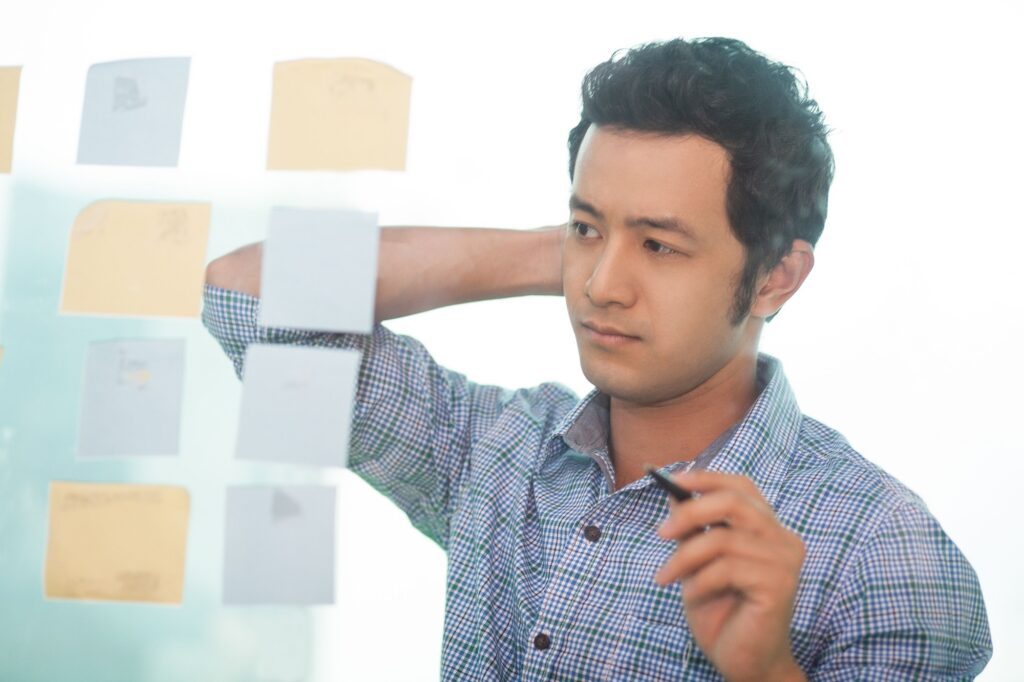 Our development team works in the agile project management method. It means that we make our activities more effective and responsive and focus on being innovative, motivated, and productive team members.
Service Delivery Director Tomasz Liberski says,
"We know how it works and we know how to make a change in a company so it works for others. Over time, we've learned that we need certain ingredients being in this specific setup working as a company for other companies and we've come up with a formula that addresses the whole lifetime or lifespan of a product. So this goes back to what we actually do – we make innovative projects happen."
Outline application development steps
Our Project Manager has a perfectly prepared and thoughtful checklist, which helps our teams to work at the highest level. It is included a list of tasks and things that our project managers have to do. "What the project manager does is he fires off the project starter checklist and goes through a list of things that need to be done for the project to make a flying start." said Tomasz.
The list is quite long, but it contains all the important things which guarantee effective product delivery. Tasks are divided into eight main categories: documentation, finance, communication, technology, resourcing, reporting, calendar, and meetings. Tomasz has to make sure that all of them are checked off upon starting a project.
First of all, we focus on documentation. Our PM delivers an agreement and the project order and then he uploads necessary contracts. He is also responsible for adding the project to the delivery dashboard and assign timeline to first tasks, adding to project state matrix and current project catalogue.
One of the most important things in any IT project is communication. To guarantee effective teamwork, we choose proven, the best available tools on the market, such as our favorite Slack. This innovative app has a lot of useful features, such as creating channels based on projects, teams, or – for instance – office locations.
The project manager is responsible for any technical issues, such as establishing and sharing the definition of done (DoD) with the client or sharing Espeo's technical guide with the whole team. He also checks if environments and continuous integration (CI) have been configured and make sure if the technology and tools have been chosen. He will explain to you any doubts and choose the best solutions.
PM is responsible also for sourcing, which means that he has to book resources and secure capacity of people with the right technical competencies' background.
To manage time better and organize our work, we use agile management tools such as YouTrack or Jira. These are proven and effective issue trackers dedicated to agile software teams. They allow us to plan sprints and releases, track tasks and bugs, create workflows, and many others. Our project manager will help you with customizing YouTrack for your needs and business processes. He will create a project, product backlog, and next, he will add users and configure their privileges. It could be helpful also in your future projects.
As you see, a PM's work is really important and also diverse. It's also worth adding that he's responsible not only for technical issues but also a timeline and organizing business meetings with clients and their teams. Due to his foolproof checklist, he can remember all issues and organize work in the whole team.
How does Espeo start successful projects?
Our well-planned project development process helps you build a lucrative and successful product and guarantee your satisfaction. Dominik Zyskowski explains,
"Our checklist is a bit of a hybrid of strict project management and also agile things coming from the agile side of things which is something that might be different. What might be different is something we've defined, but also something we're constantly improving in an agile fashion and we do the part like delivery retrospectives. We take lessons learned from projects and incorporate those to our list. We add new things which is something we've done recently. But we also get rid of things that are no longer relevant and are somehow superseded. We have a consistent list of things that we check for that we make sure we need to have."
With these activities, our work is very effective and we can meet your expectations.
Contact us for a free 15-minute consultation on starting your next project.
Check out Espeo's Project Starter CHECKLIST