In many companies a welcome pack has become a standard procedure aimed at making the new employee's first day in the company more attractive and pleasant. At Espeo Software, we strive to give something more than just standard gadgets – our aim (apart from achieving team affiliation) is conveying the culture and values that guide us.
From this article you will learn:
What's inside the Espeo Welcome Pack?
Espeo hoodie
"For colder days, running trails or industry conferences. Wear it proudly on your wherever you go!". We have recently created an Espeo sweatshirt that hits the spot. We want everyone from the Espeo team to have an item of clothing that will stand out from the crowd. This is the case with the sweatshirts that our employees wear every day, not only in the office. They just make lifes cozier.
Filtered water bottle
We try to be ecologically aware and we believe small changes in everyday habits make a big difference and help our planet. Using a filtered bottle allows us to save time, money, and, most importantly, reduce wasteful plastic production. A little change makes a big difference.
Notebook made out of recycled paper
Even though we're an IT company, we know sometimes it's better to write things down in a traditional way.
"Finding Sisu" book
Finland is a huge part of our DNA. We want our employees to get to know Finns' amazing way of thinking, habits and traditions. They're usually surprised how unique Finnish culture is! On the other hand, each of our Finnish employees will find a book about Polish culture and our approach to life in their package. Thanks to this, we are able to understand each other even better and get to know everyone's perspective.
Ready to join #EspeoCrew? Check our open job positions.
Pack of Dumle
For all of the sweet tooths that are joining our team. Btw. did you know that these delicious candies are actually Finnish?
Frisbee
We love dogs and we are more than happy to welcome them into our office and our lives. Many of our employees have dogs and Frisbee in our onboarding package is there especially for them. After all, they deserve the best too!
A sack-backpack
Made of natural, ecological fabric. It's perfect for work, the gym or shopping. Anywhere you go.
A mouse pad with a calendar
To help everyone stay up to date!
The list goes on – except for necessary work equipment (Macbook or Dell- it's all up to you!), we also attach a personalized welcome card including the information about the new employee's Buddy, who is ready to tell him or her more about Espeo's spirit, our company, and answer all the questions that will surely come up. In addition, it includes details about our main values ​​that lead us in our daily work and will surely be a guide for the new person hired.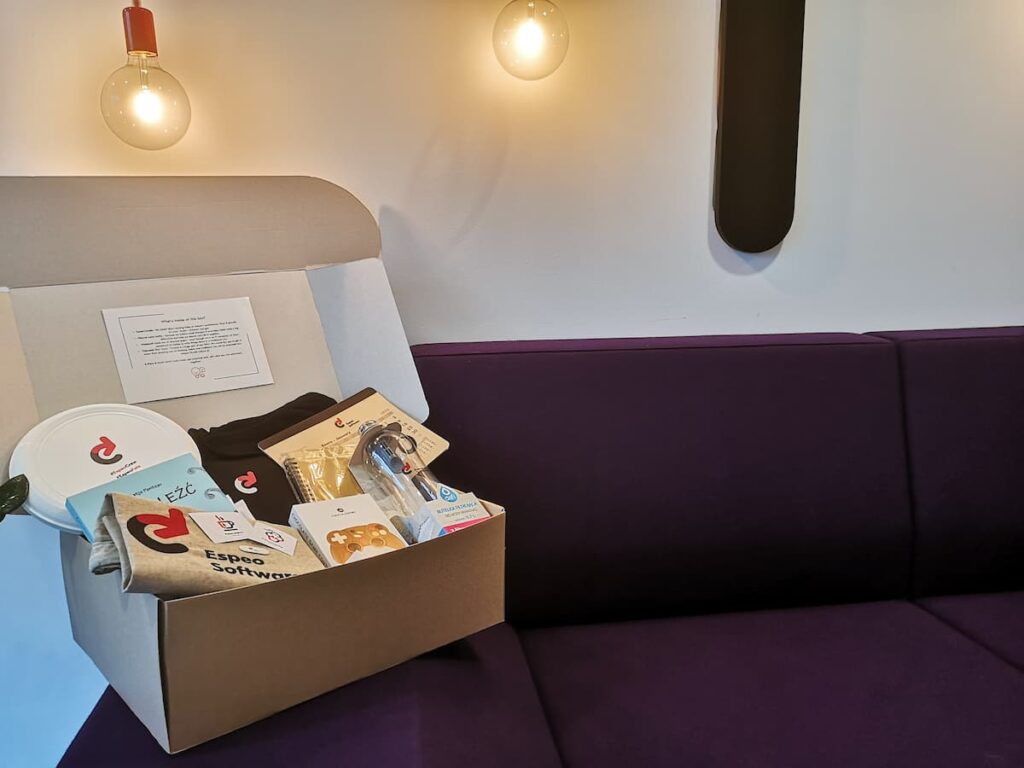 We asked one of our new team members to share her thoughts on the welcome pack she's received:
"Frankly speaking, I have never received such a pleasant surprise from an employer (and believe me I have worked for various companies). The last thing I expected was a welcoming pack I received during my first onboarding day at Espeo Software: it was a big box with a red ribbon on it and I could help open it. I have never felt so excited in my life!

The box contained all the necessary things that helped me understand the philosophy and approach to work and clients of the company. Moreover, the gesture showed me that the company cares about its employees indeed. I received a warm hoodie, a huge amount of candies, a welcoming letter from the head of HR (which was really striking to me, in a good way), a book that will make my communication with Finnish clients easier and more valuable ( I'm currently reading it), a bottle with removable filter and much stuff that is useful on daily basis in every office worker's life (e.g. pens, a notebook etc.).

The best part of it is that all of the presents have a company's logo on them so I know that wherever I go people will notice it and I will be proud to show it off to them and be a part of a great company."

​Alina Pohorila, QA Engineer at Espeo Software
Espeo's welcome pack is a comprehensive set of information and especially selected elements that introduce new team members to our company, culture, and values. We are more than happy when seeing their smiling faces opening our welcome boxes.
Are you ready to craft your career within a team of top experts, with clear values and growth possibilities? Check out our job offers, apply and join #espeocrew. We would love to welcome you on board!