In the world of technology, everything is changing quicker than ever. This is especially true in the healthcare industry. During the pandemic, digitalization accelerated more than we would have expected. The healthcare sector faces new challenges but at the same time is finding better solutions for more issues. What are the top healthcare UX design trends that will dominate 2022 and continue to get attention in the next couple of years? Continue reading to find out.
Digital (remote) help
Telemedicine is probably one of the most popular healthcare UX Design trends right now that will be growing. This trend is likely to continue as more and more people need help as a result of COVID-19. While telemedicine does not always seem to be the best option for everyone and every situation, it can help more people worldwide. This is especially true in countries or areas where medical facilities are luxury or people lack access to them. Additionally, some users may find it more comfortable to manage situations remotely. What is important to remember is that telemedicine is also an option to reduce costs.
Telemedicine is still in its infancy, as not every medical doctor has access to the best tools. The area of medical apps is also growing rapidly but it is usually not available to all users that would like to have the chance to use it. Mostly because of the device requirement for those apps.
Patient-centric UX/UI design
One of the most important healthcare UX design trends is creating applications that are made especially for patients. It means that these kinds of applications should be created from the patient's point of view. On the other hand, some apps designed for medical facilities are still not so user-friendly-oriented. There's a whole room for this area to be explored and improved in the near future. People who have problems with vision, for example, should have the ability to adjust font sizes in applications. This kind of improvement around accessibility is crucial while considering UX design in healthcare apps. Another important element for patient-centric UI design would be making smooth graphics and visuals. Patients should be able to use healthcare apps and similar applications regardless of their skill levels with applications.
Virtual and augmented reality
Virtual and augmented reality is one of another well understood healthcare UX design trends that should be on fire in 2022 and beyond. Our personal devices are more powerful than ever. Consider having a smartphone in your pocket that is capable of doing much more than a computer ten years ago. It is a normal thing today, and thanks to that, we have augmented reality in our pocket as well. Many apps are designed to help visualize elements or a whole thing thanks to augmented reality. Such innovations help with medical treatments. Furthermore, virtual reality is an important trend in healthcare UX design, as it allows for the creation of real 3D models. As a result, doctors and professionals are then able to treat patients in a better way.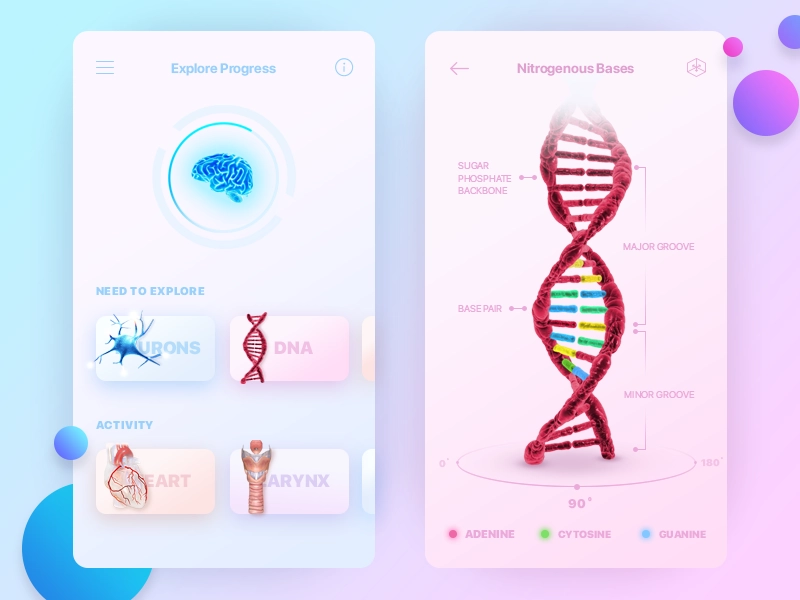 There is a whole spectrum of design that is targeted towards virtual reality. It is an even bigger topic than augmented reality so it is good to mention that in 2022, both of them will be growing. However, augmented reality will still be more accessible for most people. Some of the benefits of AR/VR tech:
Actions can be repeated in a training format (special reality with conditions)
Real damages to patient's or equipment can be avoided in case of errors
Time and cost saving
Medical wearable technology
Fourth of our healthcare UX design trends for 2022 will be the growth of wearable technologies designed for health. Majority of wearable tech requires at least a smartphone with apps to run smoothly. This means that even diagnosing health conditions needs a special device, therefore UX designers need to pay attention to how it will be used. This is especially true when you think about designing such a device in a patient-oriented way for a better experience.
The best medical wearable technology is this kind of a device that does not look like a medical device, it's working in a non-invasive way, and still gets you the data that you need. For many people around the world such a device is an Apple Watch, because it's just a smartwatch that can measure a lot of your health conditions (mostly thanks to advanced algorithms) when you are living and when there is a need, it just sends you a notification. Can you imagine a valid ECG monitoring in a smartwatch ten years ago? I think absolutely not. Wearable technology is a big trend and will continue to grow in the future. For instance, in a study made in 2020 by PEW Research Center, 21% of Americans (around 70 millions people) claimed to use smartwatches or fitness trackers. And this is only one region!
AI and algorithms for health
As we mentioned earlier most of the data is now gathered thanks to advanced algorithms. Artificial intelligence is something crucial that we can't forget because in healthcare, algorithms can find something in the data that we would look for another 10 years. Of course it's just a metaphor but in many cases, AI can give advice based on a patient's medical history in seconds thanks to processing large amounts of data. It's a time-saving and cost-saving option for medical professionals. Moreover, algorithms and AI can help to automate paperwork or scheduling.
UX design trends in healthcare: summary
Healthcare is experiencing a boom in digital solutions right now. Above, we discussed the top five of them, which will still be trending in the near future. The healthcare industry is one of the most significant ones for new digital solutions. Why? This is because of its constant evolution in line with new technologies and new discoveries from various fields.
There is no doubt that IT is connecting the healthcare industry with patients more and more. For UX design, this means connecting new, emerging technologies and solutions with existing devices and apps in the most intuitive, user-friendly manner.
Do you want to discuss how we can help you use the above trends in order to grow your business? Contact us using the form below and we will contact you shortly.