Soft skills are becoming increasingly important within the future looking companies around the world. Why is that? In what ways does developing the soft skills of employees benefit the organization? In the article below, I'll try to answer these questions while giving a detailed insight into soft skills and emotional intelligence.
Finding my calling. How did I become a Chief of Staff
My background is quite unusual for a Chief of Staff. I come from an academic environment with which I have been bound for a few years after my initial studies. During my doctorate, I decided I wanted to gain new experiences and skills. This is when I joined Espeo Software. After around 3 years in the company, my focus pivoted towards people in the organization.
I took up Business Psychology studies at the SWPS university in Poznań during which I could broaden my knowledge in terms of internal communication. Alongside the SWPS studies, I also took a coaching course in IBD Business School Warsaw and graduated from the School of Transactional Analysis in Poznań. I gained a great deal of insight into healthy communication methods as a result of this experience. People usually communicate with each other on a subconscious level and not on a conscious one. As a result, in stressful situations, people usually fall into patterns (by taking on the role of either a parent or a child). During my studies, I learned how to communicate from an adult's perspective and how to help others do the same.
Communicating efficiently requires letting go of unproductive subconscious patterns. Managers can easily assume the role of parents in a company environment, while employees can easily assume the role of children. Taking this approach leads you out of the professional realm and into the emotional one, which isn't recommended in a work setting.
After a couple of years at Espeo, I got offered the role of the Chief of Staff. This has been a natural progression for me as I have already been doing more than Office Manager and with my experience and knowledge, I was qualified to take over the internal communication of the organization. Working closely with people is something I have always been passionate about, which is why I enjoy being a liaison between various departments and integrating internal processes. After I took up my current role, I started MBA studies in order to embed my soft skills in the demanding business setting. Since graduating in March this year, I have been applying the knowledge and experience I gained while studying over the last 1,5 years to my daily work.
My work gives me a lot of satisfaction, however, it doesn't come without its challenges. When it comes to communicating, it is necessary to remember that every employee in a company is unique. As such, the messages that are shared with them must be tailored to their individual needs. Additionally, there are times when I have to stop internal initiatives if they are not supporting the company's business strategy. All internal actions should have their justification and be embedded in the quarterly company goals. It is only this way that a coherent business development plan can be achieved.
The areas of soft skills development. Why is this topic important?
There are a couple of important areas when it comes to soft skills development, especially in the IT industry. First of all, software house employees very often are points of contact with clients. As a result, each employee has a direct impact on the company image that is communicated to the client. In general, communication while working on software development is crucial. All team members should know how to form their messages in a polite, respectful way. Such messages are categorized as open messages.
Often, however, technical experts form their messages in a closed manner, leaving little room for questions or discussion. If the interlocutor on the client's side happens to be compliant with such communication, they might feel overwhelmed. Efficient communication is also key within the teams. The structure of software houses requires a great deal of cooperation between different departments. It's important to adjust the level of a statement according to the person you're talking to to ensure that everyone is on the same page. Here, showing the employees that their messages can be received differently depending on the recipient is crucial both in internal and external communication.
Secondly, IT requires a high level of problem-solving skills. While developing software, problems occur frequently. Therefore, a problem solving attitude should be cultivated among the employees. Only then can a great digital product be delivered. The ability to organize work efficiently is another soft skill that is required in a modern business (time and material), especially while working with external partners. Since people are not lonely islands, the skill to work with others is also quite major and should be continuously developed in the organization. The reason for this is that teamwork involves not only cooperation on a project but also sharing knowledge, developing competencies and skills between its members, and being able to replace each other. Last but not least, emotional intelligence is a soft skill that is extremely important from a manager's perspective but is often overlooked.
The ability to empathize with people with whom you work with is crucial in order to develop yourself in the role of a manager. Personally, emotional intelligence is the reason why I am where I am professionally. As with anything, moderation is key – it's not appropriate to be over-exuberant in the workplace. That being said, empathy is helpful not only in a day-to-day job but also in negotiating, establishing partnerships, or recognizing the intentions of subcontractors and partners.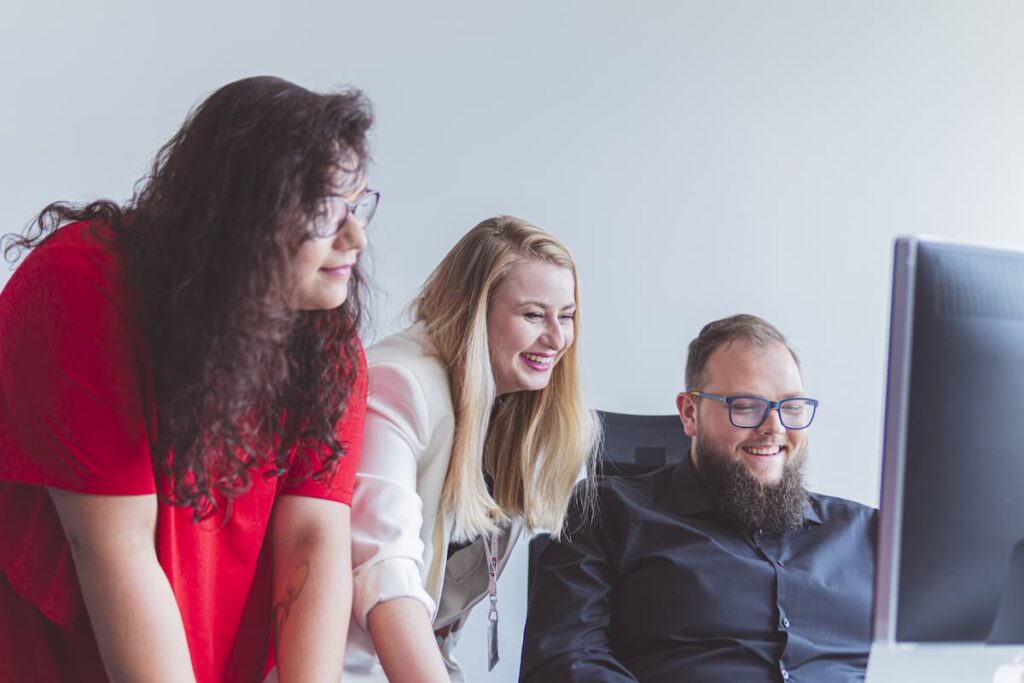 The business benefits of developing the staff's soft skills
There are many business objectives for which the companies should focus on developing their staff's soft skills. In the first place, every employee is a representative of the company in some way. After all, it is the staff's behavior that demonstrates the company culture while working with clients or external partners. Thus, it is crucial that that behavior be enriched with high soft skills and respect, as well as strong negotiation skills. Only then can the employee be a valuable representative of the brand. In our industry, technical experts usually focus on developing their tech skills. However, because of the value that soft skills bring, any organization should encourage the development especially of the soft competences among its employees.
Developing soft skills plays a vital role in maintaining high company culture and communication flow. It is especially valuable in the IT industry, where the success of the projects depends on effective cooperation between team members. In the end, eliminating communication barriers can help avoid issues that may arise during software production. At Espeo, we happen to work with people who have both extraordinary interpersonal and technical skills. Some of these people became mentors in our latest edition of Espeo Junior Academy. The mentor role required impeccable soft skills as well as vast technical experience.
High interpersonal skills have an impact on the general growth of the business as well. When technical experts have great soft skills, they are more likely to increase the clients' trust and satisfaction, which leads to the acquisition of new projects or the extension of existing collaborations. The development of soft skills can also lead to reduced employee turnover as the bond between team members is stronger.
The current situation and trends of staff development across different organizations
From my perspective, the focus on staff development can be especially observed in the IT and creative industry. Particularly in software houses such as Espeo or digital agencies where the employee is in the company center and where the HR departments care about the staff's satisfaction. Currently, a big trend for companies like these is to offer e.g. sponsoring personality tests in addition to organizing other actions to develop the staff's soft skills.
Those employed by public companies, on the other hand, don't have access to such commodities – there, the development of soft skills and employee benefits are very often left unconsidered.
So what will the development of soft skills look like in the future? Will more companies see its benefits and decide to invest in it?
The popularity of developing soft skills will continue to grow among future-looking organizations. However, the growth won't be as significant in companies where the organizational culture is low and where there is not an individual approach towards the employees. The last two years of the employee market showed how important building the compatibility between the organizational culture and its external image is. Applicants were equally concerned about the culture of the company as about the job responsibilities. As a result, companies that failed to deliver what they promised lost a lot of external credibility.
What is more, I predict that in five to ten years the soft skills (such as flexibility, problem solving and sensing the needs of team members and business partners) will be on par with technical skills. Companies that will understand the need to develop those skills will thrive, whereas businesses that won't, will become less competitive.
In general, companies will put even a greater focus on aligning the cultural fit of candidates before starting the cooperation. Departments such as Human Resources will likely draw more and more from the psychology field to improve the recruitment processes and the day-to-day work. Initiatives like Employee Advocacy will gain more traction within businesses.
Sign up for our newsletter to be the first to receive news about the FutureTalk series and other valuable materials.