All true leaders and most of the managers wonder how to achieve ambitious plans and what can be done to keep the company growing. The answer to these questions remains the same. It is vital that the organization takes care of employees so that their goals, while supporting the business goals, give them a sense of self-fulfillment. Skillfully conducted 1:1 meetings (employee – leader) can help to achieve this.
The turn of March and April in Espeo Software was an opportunity to implement practical workshops for leaders and board members. We've had the chance to organize our knowledge on how to effectively support an employee during regular meetings, and thanks to practical exercises, test our skills in practice.
I decided to share what conclusions we have reached, and what our Delivery Managers think about 1:1 meetings.
Atmosphere and trust
We should remember that these types of meetings are dedicated to the employee. It should give them the opportunity to talk about their well-being, development plans, problems, and frustrations. The leader should do everything to build a good relationship and a sense of trust with the employee during the meetings. Our Delivery Manager, Anna Wygralak-Wasilewska, says "I have always admired authentic leaders who do not pretend to be more experienced than they really are. I also believe that the will to understand the second person can be helpful not only in running 1:1 meetings but also in long-term cooperation."
Leaders, don't mess it up!
We already know that the leader plays a huge role in motivating and engaging the employee. It is equally important, however, to remember that some rules should never be broken! Don't cancel meetings, and if it is absolutely necessary, offer a new meeting date straight away. Your 1:1 meeting should be scheduled on the calendar and held regularly (at least once a month). The leader should take notes during the call that they can refer back to in order to prepare for the next month's meeting. Pro tip: be sure to let the employee know that you are taking notes and not responding to emails! The employee needs to feel that they are being listened to. The leader should show maximum interest and focus in the conversation. Don't forget about empathy, show an interest in your team members, and find common ground! As a leader, you should build the belief that an employee can count on your support if they need it. As a leader, you need to remember that one-on-one meetings are not an opportunity to update a project situation or talk about an employee's current tasks. Focus on his or her goals and how to achieve them. Ania additionally noted that the relationship during 1:1 meetings is just as important as building relationships in private life: "Be honest and authentic. From both sides. And trustful. Probably those are also the most important values in private life as well. I believe that if people are honest with each other they can both reach their goals. Otherwise, why work in a team?" Mateusz Rybicki, our Delivery Manager, also highlights key elements of the meetings: "Empathy together with listening. One doesn't work without another."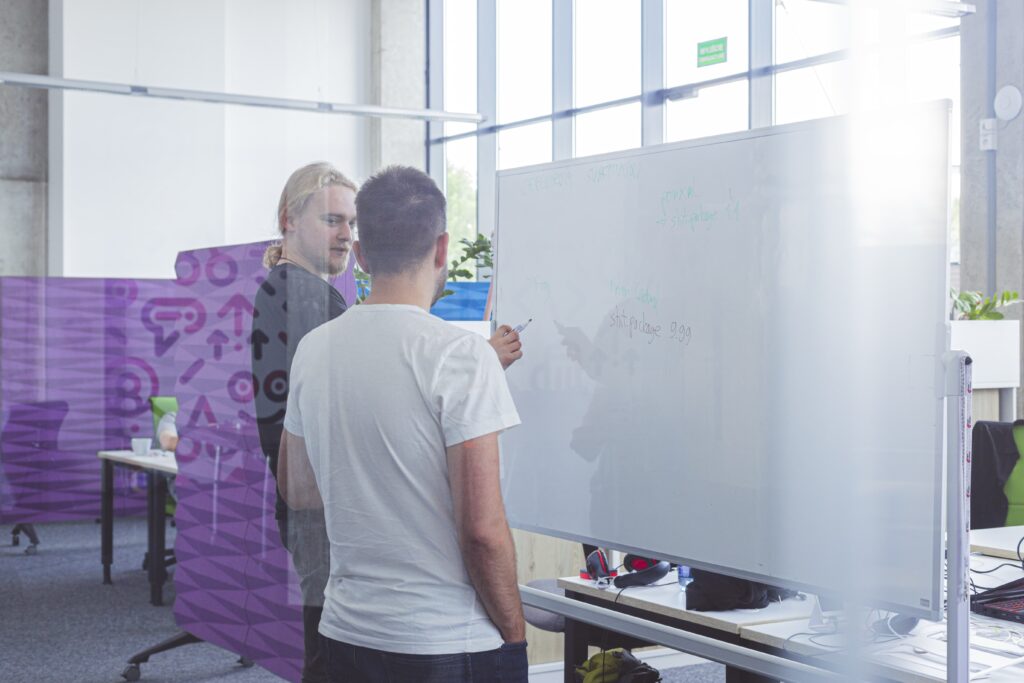 When the world went online
Pandemic times and remote working don't make it easy for us to build relationships. New employees often feel alienated when they don't get a chance to have coffee in the office and talk to their co-workers. Ania points out that "in post-pandemic times, while we do not work together in the office, it is super important to meet people, to know how they feel, what are their needs in terms of personal development". In this situation, the role of the leader and his or her support is crucial. It is up to the leader to look for ways to engage the new employee and build a sense of belonging to the organization.
"Feedback is the breakfast of champions" – Ken Blanchard
One-on-one meetings are also a good opportunity for mutual feedback. Remember that while focusing on goals, feedback must be constructive. When you are forced to give negative feedback, try to find solutions with the employee to solve the problem. Don't give up on feedback from the employee. It is essential to know how you are perceived as a leader and what you can do to improve your work and the cooperation of the whole team. If you build mutual trust and respect, you will enjoy working together and achieving your goals will be much easier!
Living in the 21st century, every employee dreams of being appreciated and feeling as an integral part of the organization. They would like to develop themselves, have time for their passions and come to work with energy and enthusiasm. A good and modern leader understands how important it is for his employees to be happy and strive to achieve their own goals. It may seem trivial but a leader's time and commitment are the greatest value an employee can receive in their daily work. And there is no other way to do this than through 1:1 meetings. Believe in their power, and you will not be disappointed!
Are you looking for new career opportunities? Check out our open job positions and join #espeocrew!