Recurring payments have worked their way into thousands of popular subscription services. While subscription models are nothing new, e-commerce has driven innovation in new directions. Integrating online payments in customer-friendly ways is now a top priority for many firms looking to improve cash flow. Video and music streaming giants popularized the trend and now other companies taking these lessons to sell goods or services. Just how seamless a payment provider integration is often means the difference between happy customers and cancelations. Here's a brief overview of recurring payments and ways put it to good use.
Recurring payments and how to use them
Table of contents:
What are Recurring payments?
Recurring payment subscription is a business model in which cardholders pay automatically at regular intervals for a product or service. According to Mercator Advisory Group, e-commerce, bill paying, as well as subscription models are factors underlying rapid payments development. In this model, customers allow retailers to save their payment details and give their permission to automatically withdraw funds from a bank account or credit card. This can improve the checkout experience, which can vastly improve customer retention and win loyal customers.
A 2018 report from the consulting firm McKinsey found that the subscription market grew 100% per year for the previous five years. Nearly half of all subscriptions are video or music streaming services. Among the most famous examples of companies that use recurring payments model to improve cash flow is Amazon, whose revenue rose from $7 billion to $10 billion in recurring billing after launching its service Amazon Prime. Other examples of such global players are streaming services Netflix and Spotify. In the second quarter of 2019, Netflix reached a record-breaking 150 million paid subscribers. Spotify meanwhile, has 108 million.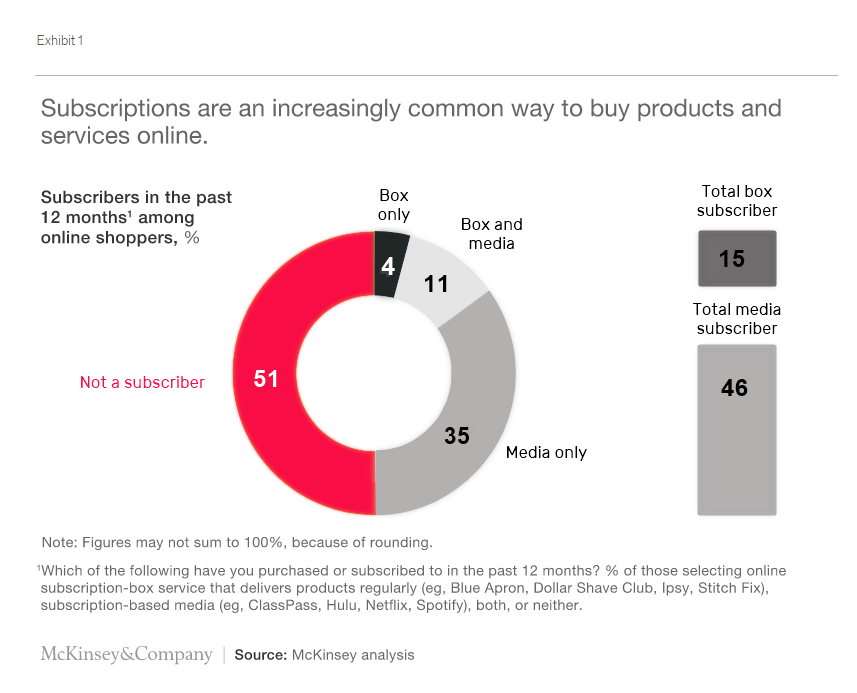 Subscription models
Currently, you can split recurring payment models into three types. Curated choice takes user interests to pitch personalized content while replenishment fills routine items at specific intervals. VIP club recurring billing models create an air of exclusivity that can make your business stand out.
Curation — This is the most popular according to the McKinsey survey. What attracts customers in this category are the positive emotions linked to receiving personalized, hard-to-find items. Try the World does this particularly well. Subscribers save their credit card details once and receive snacks from around the world every month.
Replenishment — This model saves users' payment information and helps optimize shopping for routine items such as razors or toothbrushes. Dollar Shave Club or The Bam and Boo allow you to customize your recurring billing frequency based on how often they ship.
VIP club — Members can access premium products, discounts, or free delivery otherwise not available to regular customers. Amazon's Subscribe & Save offers attractive discounts to members and is among the most popular recurring billing model.
Managing recurring subscription billing and existing systems
In many services, customers can adjust their recurring payments schedule according to their needs. When a customer pays a set amount of money for the product or service, this is a fixed subscription. This payment schedule is widely used by different kinds of streaming services when a fixed membership fee is charged from the customer's bank account regularly. There is also a variable amount model in which the price that the customer pays is not stable. You can see this schedule applied when your account is charged for utility bills which differ from month to month.
Benefits and challenges
Among the most obvious challenges to recurring billing is the convenience and comfort for both customers and merchants. Customers using this method often stay longer than traditional one-off transactions. This gives the company a much better idea of revenue and makes supply ordering much easier. In this way, the company can gain more recurring customers. recurring billing can also lower the costs, helping to receive payments without delays and reminders.
For consumers, this payment method allows them to save time on entering credit card data each time at checkout. Subscription models can also reduce the anxiety and indecision that some consumers feel as they try to make a perfect purchase. Moreover, subscription packages can cause more positive emotions in comparison to traditional shopping because of the less effort and time spent on choosing the right product and element of surprise.
Besides some obvious advantages, some caution should be exercised with a recurring payments plan. First of all, it is more difficult and time-consuming to troubleshoot some potential issues or errors. For companies, there are still some administrative costs left. Moreover, according to the McKinsey report, churn rates of such businesses as subscription boxes are quite high and companies should have a unique competitive advantage to attract buyers.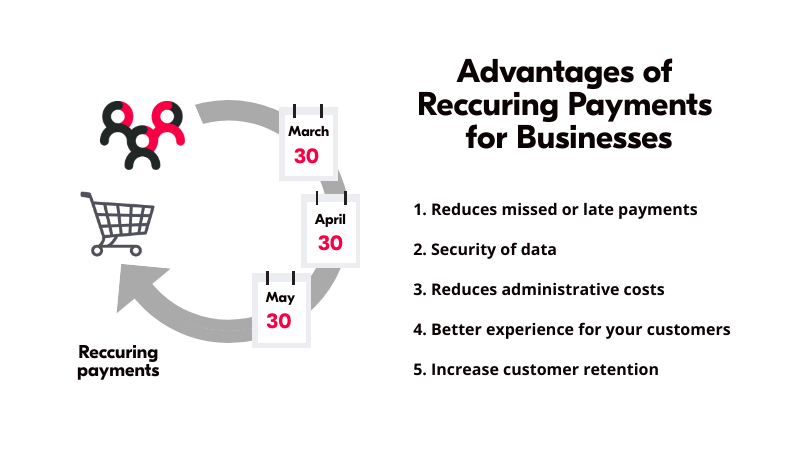 Recurring payments perspectives
Recurring payment methods besides some resistance is becoming widely accepted and used. According to the Gocardless survey, which surveyed 4,000 people, 52% of respondents preferred direct debit. In the UK and Germany, the number of respondents enthusiastic about direct debit was even higher reaching more than 60%.
Another recent survey conducted on almost 12,800 participants from different countries showed that Canada is the leading nation willing to make automatic payments with credit cards. 27% of the respondents declared that they are likely to use it to pay for offline subscriptions whereas 26% for bills and subscriptions online. The survey found similar results for American consumers. In the US alone the recurring billing method is expected to increase to $473 billion by 2021.
Blockchain recurring payments
First services offering recurring payments using cryptocurrency were Coinbase and PumaPay. In August 2019 Monarch announced its decentralized blockchain-based recurring payment system. The advantage of this subscription business model includes capturing a growing market of people who want to see alternatives to centralized systems. Recurring billing smart contracts is what allows users to hold their own private keys and seed phrase.
Decentralized web browser Brave flips recurring billing on its head by paying users in their native BAT, or basic attention token cryptocurrency to look at advertisements on the platform. While it remains an open question about the viability of this business, cryptocurrency transactions do lend themselves well to small, payments. Brave does offer an example of how similar systems could work. It's conceivable that a streaming service or online publication could charge a small fee per minute or per view directly from users instead of running ads.
Smart contracts can verifiably prove that a user viewed something and release payment automatically, greatly streamlining billing and auditing. Of course, instead of credit cards and bank accounts, users would connect their crypto wallets. So if you want to accept crypto you would need to be able to integrate with a range of user wallets.
Final thoughts on recurring payments
The question arises whether this system will be the future of recurring billing. What we know for sure is that it opens wide perspectives for businesses with its improved security and possibilities to create personalized subscription plans. In addition, recurring payments can streamline a checkout process by saving key payment details. Credit card, debit card and maybe crypto wallet integrations will be ever more vital as more consumers and retailers transition to e-commerce.
Adding a recurring payment system can grow your business and win loyal customers. Want to add it to your business? Schedule a free 15-minute consultation with one of our payment experts to find out more.
See also: