The following article will explain the opportunity of attending Espeo Junior Academy. At Espeo, we focus on values of development and partnership. Academy is dedicated for Juniors who are looking for an excellent opportunity to start their career. With us, you will have a one of a kind opportunity to become a Node.js or React Developer under the guidance of top experts.
It is not the first educational project we are running. There are people in our Crew who took their first steps as programmers with our previous endeavors like this one. Nowadays, they are top experts in their technologies and they are happy to welcome a new generation of Academics. Therefore, we know it works. Read the article and find out for yourself.
You will find the answers on the following questions:
What is the Espeo Junior Academy? Why is it worth participating in?
During the Espeo Junior Academy, for 2-4 months, you will cooperate with our experienced mentors, who will support you in your career development. The program will be individually tailored to your experience and knowledge. Participation is free of charge. Additionally, you will receive a salary throughout the training period. After completing the training, we will offer you evaluation and introduce you to work in commercial projects with our clients.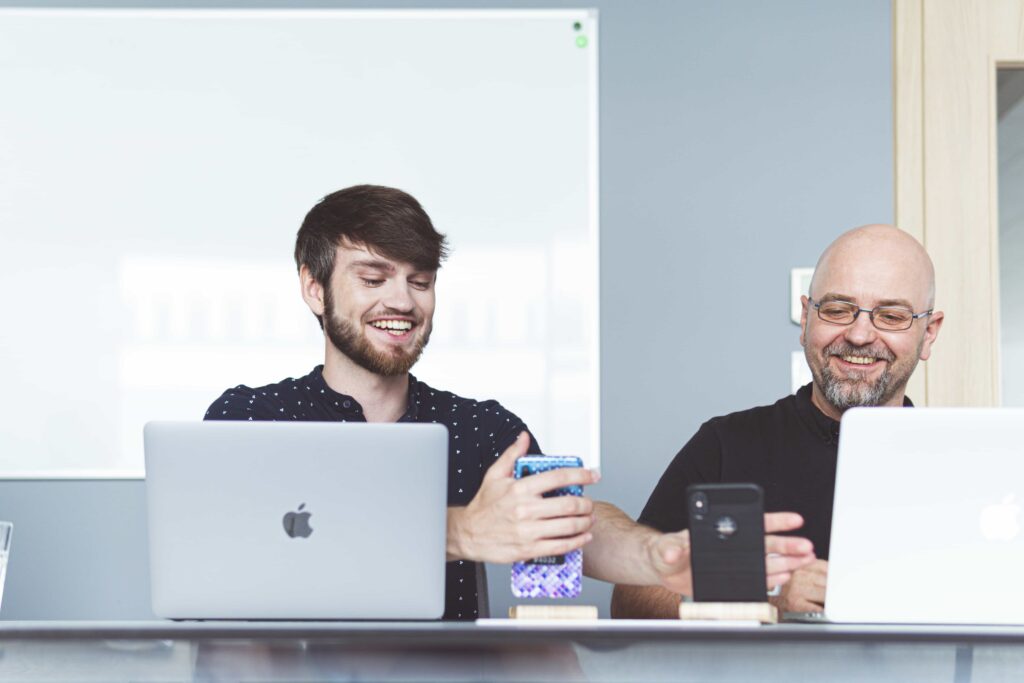 The program is dedicated to students who are looking for a place to gain practical knowledge and various experiences from experts. The Espeo brand has been known on the Nordic and European market for 14 years. During this time, we developed the latest technologies and became innovators in various areas. The Espeo team consists of people focused on development and who stay up-to-date with the changes in our dynamic industry. The value of the program is visible in the feedback from the Alumni of the previous Academy.
Hint from Espeo Junior Academy Alumni
Meet Aleksandra Czajczyńska who graduated from the Espeo Junior Academy.
We asked Aleksandra to share insights into her experience with the Academy. This is what she said: "When I received information that I was qualified for the next recruitment stage at the Espeo Junior Academy, I was excited. That was my first experience with the Assessment Center. I got a technical assignment and Adrian Warkocz evaluated me based on the Espeo competence matrix. Then, I was assessed as Junior II, and invited to participate in the program. I've decided immediately to move from Wrocław to Poznań to take advantage of this opportunity. In retrospect, I know it was all worth it!"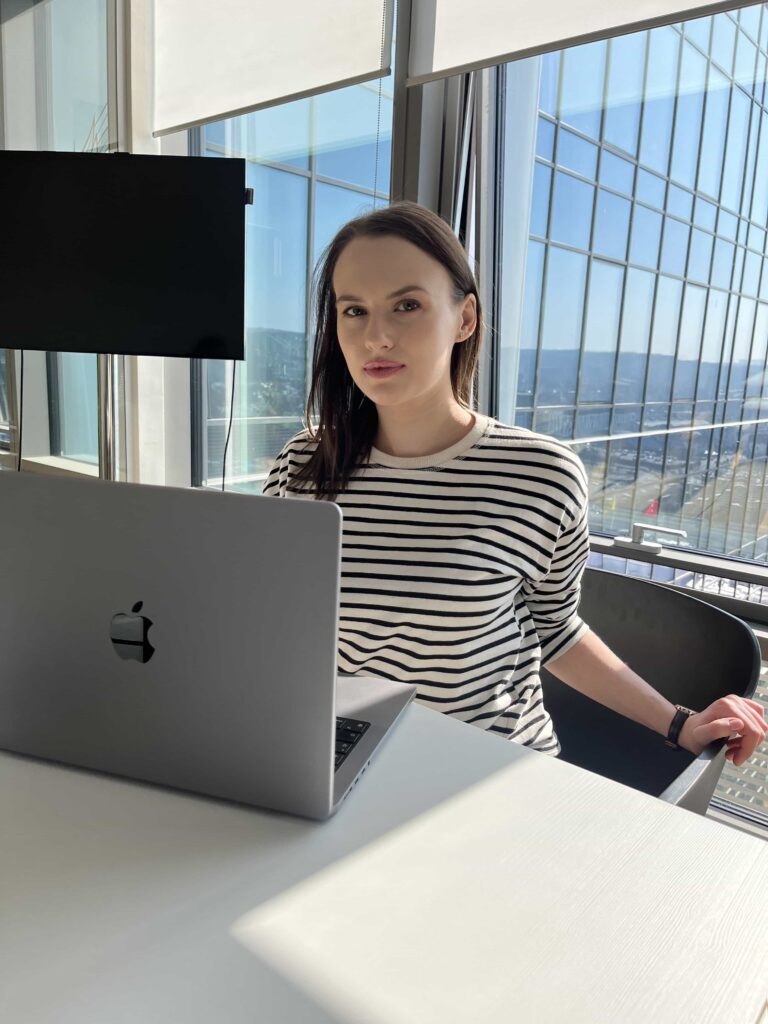 She continued: "I received a lot of support from experienced developers during the whole training. Consequently, I learned that there are no stupid questions in IT. It was the first time that I had the opportunity to work with such a large team of developers. I got a chance to work on a commercial project with new technologies from the very beginning. At Espeo, I became an equal team member, and I got lots of support. And what's more, I have developed my interpersonal skills while working with clients. Espeo Junior Academy is not a typical internship program. That is a real chance to start a career. I heartily recommend it from the perspective of a graduate of this program."
Why is it worth building your career here?
We are a reputable Digital Consultancy. Because of this, you can be sure of the value of the acquired knowledge. Working at Espeo is a dynamic journey through the changing technological reality and projects full of challenges. Therefore, you can be sure that our team will provide you with the latest knowledge and you will take your first steps based on the current technological trends.
What differentiates us?
Our company operates based on the Finnish work culture. Flat organizational structure, transparency, and focus on the value of feedback and development. Consequently, our employees stay with us for longer and come back to us from other organizations. Espeo and the Academy are more than just a chance for professional development. Here, you will also meet great people and make valuable friends.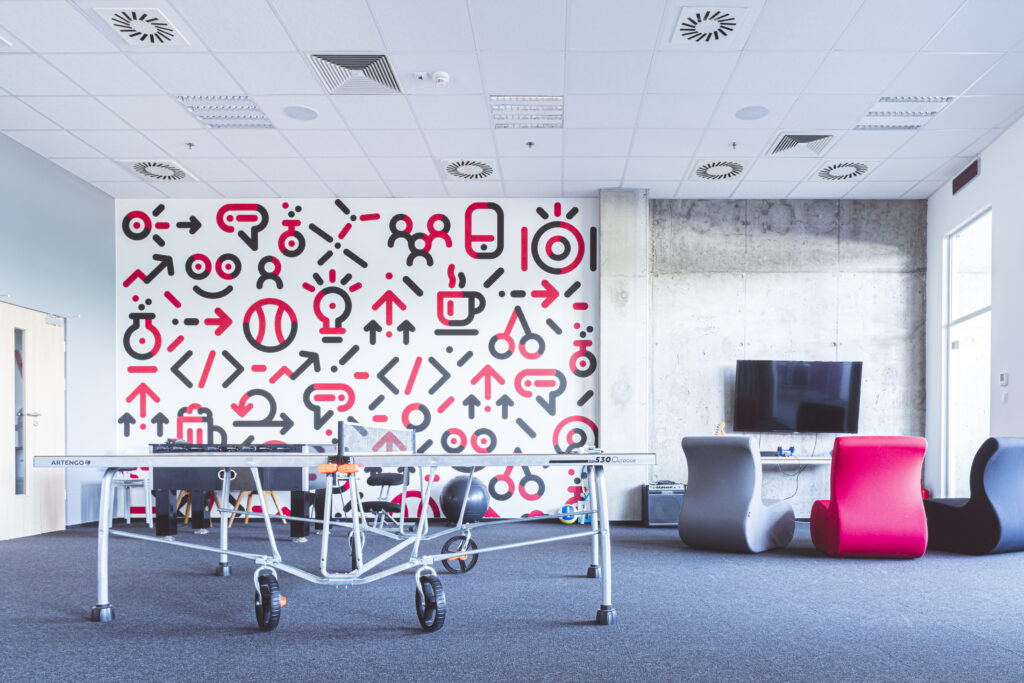 What knowledge and skills should I have to participate in the program?
The goal of our Academy is to create development conditions for people who are looking for a place to develop and gain their first commercial experience. The program is adjusted with participants' level of knowledge and experience. We focus on an individual approach based on mentoring and developing values.
We are looking for ambitious students determined to develop professionally within the technological paths we offer. You should have a technical basis to start your career as a developer. Also, it is required to have good English skills – minimum on B2 level. Finally, you should be available full-time during the training time.
I see the Academy as an opportunity to gain the first commercial experience for people just starting in the IT industry. Currently, there is a deficit of employees. Moreover, employers still are interested in hiring people with more experience and a high level of specialist competencies. The Academy is a way to open a new career path for young developers. As a company, we see this as a new way to expand our team – from the selection of outstanding juniors – to the formation of experienced technology consultants.

Agata Staszak, Chief of Staff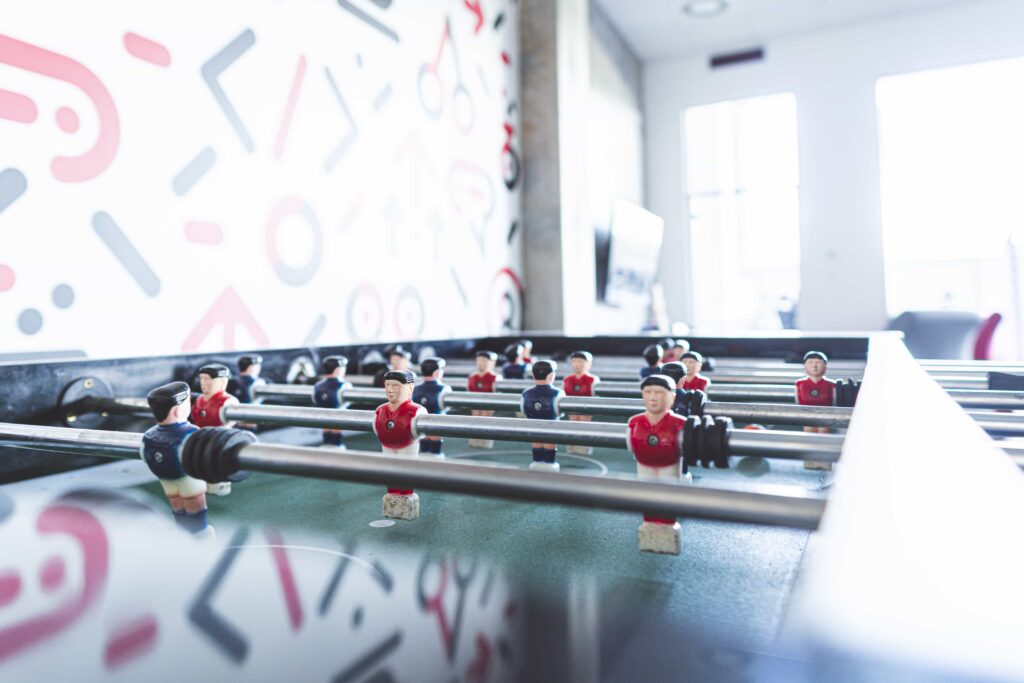 To summarize, if you already have at least basic technical skills, you know English well and you relate to our organizational culture, it means that this project is just for you!
From whom will I learn? Meet Mentors of Espeo Junior Academy
At Espeo, we want you to learn from the best specialists from the very beginning. Our mentors are experts in their fields and great colleagues who approach the idea of sharing their knowledge with great enthusiasm. Once you finish the recruitment process and accept our offer, you will be assigned to a mentor. It is essential because we want to give you the best learning possibilities. We hope for you to become a permanent member of the EspeoCrew after completing the course.
During the Academy, you will be able to observe our specialists and learn from them. We are not afraid of questions, and our mentoring support model is based on a feedback culture. In the circle of our Mentors Team are Adrian Warkocz (Senior Frontend Developer), Aleksandra Kasprzak (Senior Software Developer), Łukasz Błaszyński (Senior Frontend Developer), and Wojciech Ossowski (Senior Node.js Developer). They are a great group of enthusiasts who are not only world-class specialists but also great at passing knowledge to others.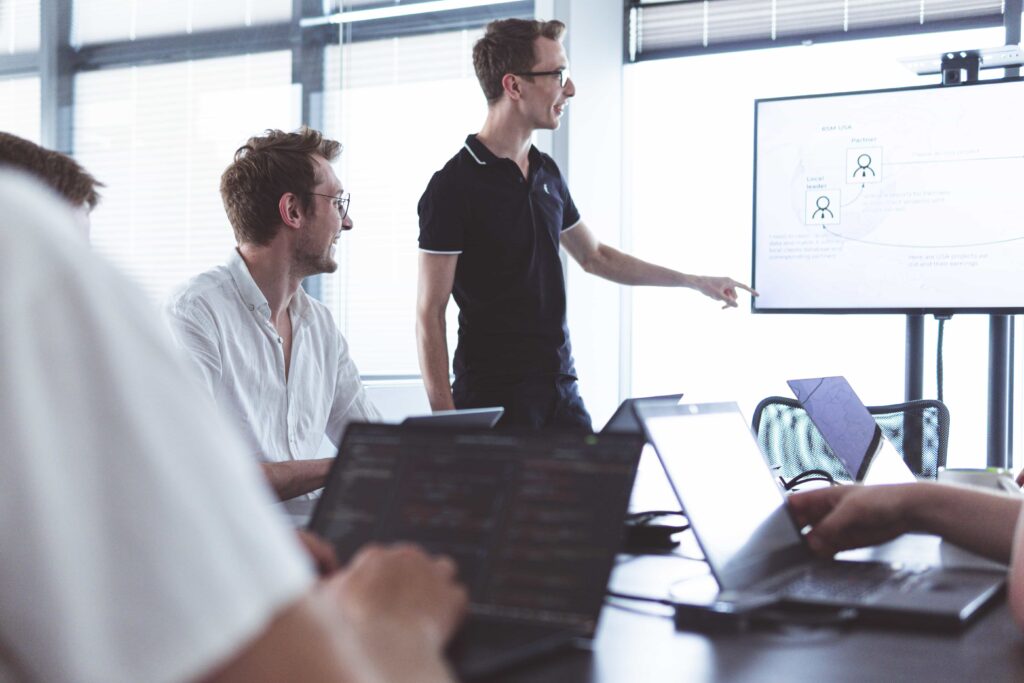 Meet our Mentors!
Adrian Warkocz was one of the creators of the first Junior Academy at Espeo. He is very proud of this project and willingly volunteered to create the next edition. What's more, Adrian himself gained his first practical experience in a similar program. Therefore, he knows how important it is for young specialists to get into the profession by practice and to have support from experienced colleagues. Adrian has incredible energy and enthusiasm to share his knowledge. Various experiences that he gained can be a great example and inspiration for younger colleagues, and Adrian is very happy to share them.
I started my career similarly! Therefore, the opportunity to be a mentor is a great joy for me. I love sharing knowledge. Also, the chance to work with people who are just starting their careers and have a different point of view is a valuable lesson for me.

Adrian Warkocz, Senior Frontend Developer
Aleksandra Kasprzak (Ola) is a versatile specialist who constantly expands her knowledge with great enthusiasm. She is an active member of educational platforms. When she started her professional career, she realized the admirable culture of the IT industry focused on personal development and sharing knowledge the most. As a great example, she indicates Stackoverflow, where others spend their free time helping industry colleagues solve the problem. Ola is known for her ability to easily share her knowledge, and willingness to support her colleagues at work.
The culture of sharing knowledge in the IT industry is visible through the enormity of open-source projects, blogs, and free libraries that make our work easier. One of the practices for sharing knowledge that I have chosen is mentoring. In my opinion, this is a very effective form of learning in which both parties can learn a lot from each other.

Aleksandra Kasprzak, Senior Software Developer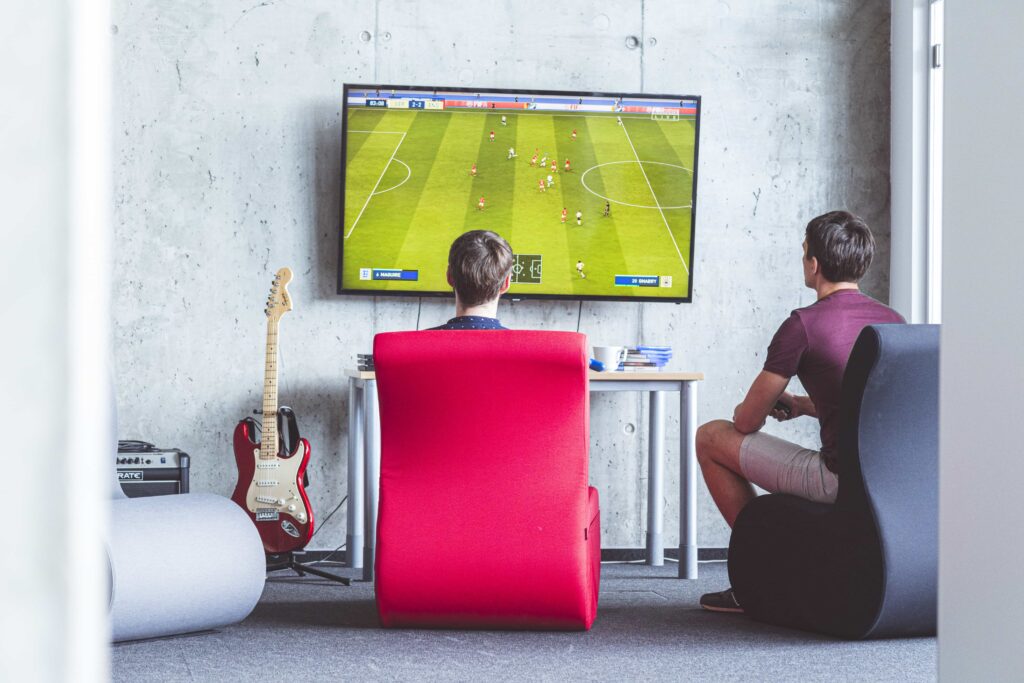 Łukasz Błaszyński is a specialist appreciated by colleagues for his wide technical knowledge and the ability to work under pressure. He is a versatile specialist who shares his expertise in an accessible way. You can see this by reading his publications on our blog. Working with Łukasz is a pleasure due to his ability to work in a team and inspire others. At Espeo, we value Łukasz for his positive attitude and for being an inspiration for others.
Being a mentor allows me to share my knowledge and experience with people at the beginning of their career path. Each of us has started once. Therefore, I know how important it is to get support from experienced people who will show the right direction of development. That's my motivation to be a mentor.

Łukasz Błaszyński, Senior Frontend Developer
Wojtek Ossowski is a man who spreads a positive aura around him, and everyone appreciates the possibility of working with him. He inspires others with great knowledge and the ability to organize work under time pressure. Wojtek is a supportive colleague and experienced mentor who can appreciate others and share valuable feedback. At Espeo, we appreciate him for his willingness to spend time helping others and his great sense of humor.
Personally? I missed mentoring when I started working as a programmer. Junior Academy is an opportunity to pass on good practices and a pragmatic approach from the very beginning of your career. Sharing knowledge is a non-zero-sum game, especially in IT – we can draw full handfuls together!

Wojciech Ossowski, Senior Node.js Developer
The Academy's mentors are wonderful people who have the best conditions to teach you and help you start your career. The atmosphere at Espeo is not just words. All members of EspeoCrew from our office in Poznań are waiting impatiently for new colleagues from the Junior Academy.
Why is it worth it to boost my career as a Node.js Developer at Espeo?
The Espeo Junior Academy focuses on technologies in which we specialize. Thanks to our great experts, we carry out a wide range of projects in Node.js. Therefore, we can offer our team members innovative projects that we implement. That is an excellent opportunity to gain various experiences and build your development workshop based on the best and current practices.
Node.js breaks records of popularity on the backend. It convinced both startups and big players – due to its speed, scalability, great community, and wide range of applications.

Wojciech Ossowski, Senior Node.js Developer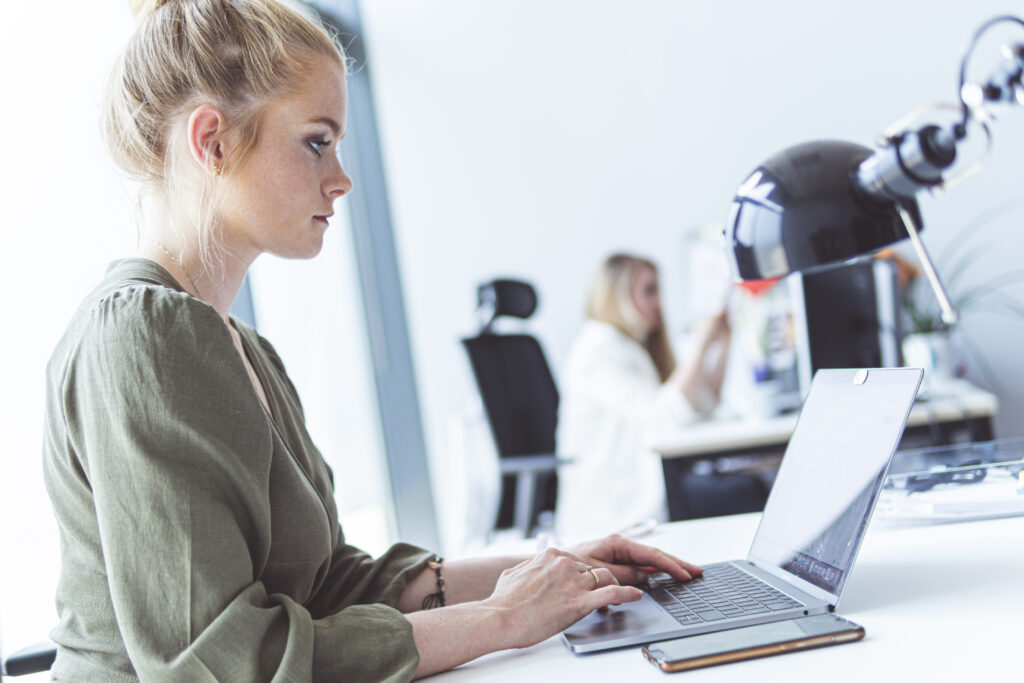 Node.js Developer is a position that we are constantly looking for at Espeo. The market demand is high, but there are not so many places where you can get a workshop by learning from experienced practitioners. Participation in the Academy is an opportunity to gain practical skills and project experience. Our aim is that you join EspeoCrew permanently as a Node.js Developer.
Why is it worth it to boost your career as React Developer at Espeo?
At Espeo, we have a frontend team, thanks to which our experts created an incredibly effective and developmental environment. These are perfect conditions for building your career as a React Developer. As part of our team, you can discuss challenges in the project and learn from more experienced developers.
We pay attention to well-designed web applications, written with Typescript, containing tests, and accessibility. As React Developers, we can work with new technologies on various projects. Many projects allow us to learn how to choose a technology stack for a specific problem.

Aleksandra Kasprzak, Senior Software Developer
The market demand for React specialists is greater than the number of skilled people. Many want to work as a React Developer, but there is a lack of ways to gain real experience. Participation in the Academy provides the opportunity to develop and learn from the best experts on the market.
When it comes to writing Single Page applications, React is the leading framework that sets the standards for writing modern javascript applications. Choosing the react developer path guarantees very wide employment opportunities.

Łukasz Błaszyński, Senior Frontend Developer
React Developer is a position that we are constantly looking for at Espeo. Joining our team is an opportunity to learn from the best. We are looking for ambitious and development-oriented Developers to join EspeoCrew.