Już 22 czerwca (czwartek) spotkamy się w biurze Espeo Software by porozmawiać nt. "Narzędzia AI, a praca programisty". Na uczestników będą czekały merytoryczne prezentacje przygotowane przez ekspertów z technologii mobilnych, programowania backend oraz programowania frontend. Jedna z prelekcji będzie niespodzianką – a speaker zostanie wyłoniony w drodze konkursu, o którym więcej informacji znajdziesz w dalszej części artykułu.
To doskonała okazja do networkingu z innymi specjalistami, a to wszystko w luźnej festiwalowej atmosferze, gdzie nie zabraknie pizzy, pysznych przekąsek i napojów.
Coding.fest 2.0 #Poznan

Temat: Narzędzia AI, a praca programisty

Data: 22 czerwca (czwartek)

Godzina: 18:00

Miejsce: Espeo Software, ul. Baraniaka 6, 61-131 Poznań

Zapisy: meetup.com

Udział: bezpłatny
Czy to wydarzenie dla mnie?
Programujesz i interesujesz się najnowszymi rozwiązaniami, które mogą ułatwić Ci pracę? Chcesz dowiedzieć się więcej na temat narzędzi AI? A może chcesz podyskutować na ten temat w gronie innych specjalistów? Być może wierzysz w siłę networkingu i chcesz spotkać się ze innymi programistami w Poznaniu by poznać się i wymienić doświadczeniami? Doskonale się składa! Wygląda na to że Coding.fest 2.0 jest właśnie dla Ciebie!
Program wydarzenia
Zaczynamy o godzinie 18:00. Merytoryczna część wydarzenia obejmuje 3 prezentacje. Czas przewidziany na tę część meetup'u to około 90- min. W ramach prezentacji możesz także spodziewać się konkursów dla widowni! Liczymy na Twoje zaangażowanie dyskusję. W trakcie dla gości dostępne będą przekąski i napoje. Po części merytorycznej odbędzie się integracja przy świeżej pizzy. Pamiętaj żeby zapisać się do udziału w wydarzeniu TUTAJ.
Konkurs na wystąpienie
Masz pomysł na temat, który jest związany z AI i programowaniem i chcesz o tym podyskutować? Świetnie się składa! Do naszego składa chcemy zaprosić spikera, który zostanie wyłoniony w ramach konkursu.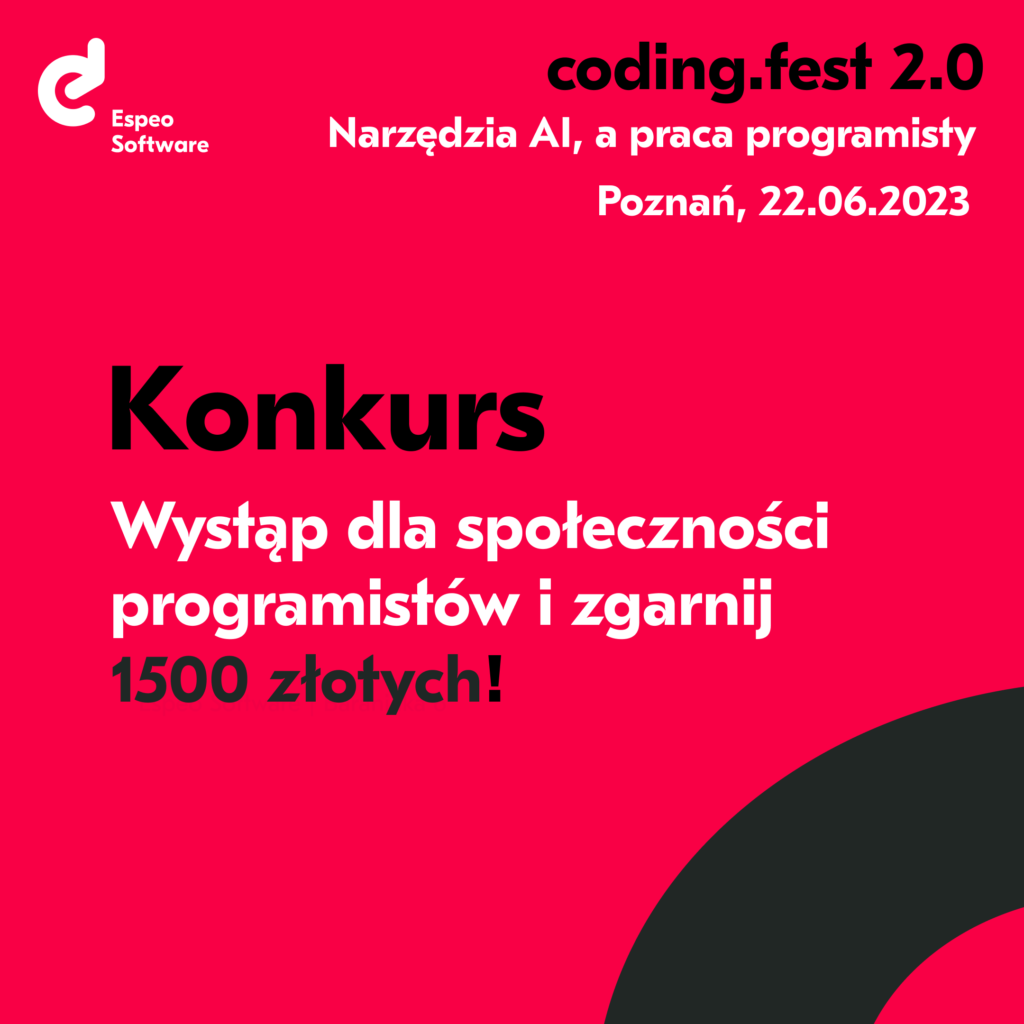 Zwycięzca zostanie zaproszony na wydarzenie jako mówca, a dodatkowo otrzyma za swoje wystąpienie nagrodę w postaci 1500 złotych.
Co trzeba zrobić?
W konkursie mogą brać udział wyłącznie osoby pełnoletnie. Należy przygotować krótką prezentacje o tym, co chcesz przedstawić na wydarzeniu. Prezentacja ta powinna być przygotowana w formie wypowiedzi wideo i trwać maksymalnie 90 s (1.5 min).
Zgłoszenie konkursowe
Zgłoszenie należy wysłać mailem zatytułowanym "Konkurs Coding.fest 2.0" na adres: [email protected]. Można przesyłać je do końca dnia w niedzielę 18 czerwca. Zgłoszenie powinno zawierać twoje dane personale: imię, nazwisko, datę urodzenia, e-mail oraz numer telefonu. Załączony film powinien być w formacie MP4. Przesłanie zgłoszenia jest równoznaczne ze zgodą na przetwarzanie danych osobowych na potrzeby przeprowadzenia i rozstrzygnięcia konkursu.
Wyniki konkursu
Komisja konkursowa złożona z pozostałych prelegentów wybierze zwycięzce w poniedziałek 19 czerwca. Wtedy wszyscy uczestnicy zostaną poinformowani o wynikach. Zwycięzca otrzyma zaproszenie na wydarzenie i wsparcie w przygotowaniu prezentacji na wydarzeniu (przewidywany czas tej prezentacji to 20 – 30 min). Po wystąpieniu zwycięzca otrzyma nagrodę w wysokości 1500 złotych! Powodzenia!
Dołącz do Coding.fest 2.0 w Poznaniu i do zobaczenia wkrótce!