Remote work – yes or no? Is long-term remote work in a different time zone even viable? At Espeo, we're giving it a thumbs-up. As an IT company open to modern standards and focused on great communication, we enable this kind of co-operation. We spoke to one of our developers who worked remotely from a Thai paradise for 1,5 months.
Speaking about your travel to Thailand. How did you plan this? Was it a spontaneous trip or rather a planned journey?
I think it might be rather difficult to leave to the other half of the world for a month and a half spontaneously, especially when you have to take work into consideration. But perhaps I should mention that my professional career started with remote work. My first job was for a company in Michigan. I've worked there during travels through Jamaica, Curacao, Colombia and then the United States, so it was natural for me to work outside of office, in different time zones.
When I parted with that project I started working for Espeo in Poznań. It's sort of my home base, a city where I stay when I'm not roaming the world. At the beginning of our cooperation I didn't have any travel plans. It also turned out I enjoyed working from office as well. However, it was very important for me to have the ability to work remotely. My project in Espeo is for a Norwegian company and some developers in my team aren't located in Poznań. So I knew there would be no obstacles for me to take the idea of spending fall in Asia (which began to form in spring) and turn it into reality. Besides, hey, it's only a 6-hour difference.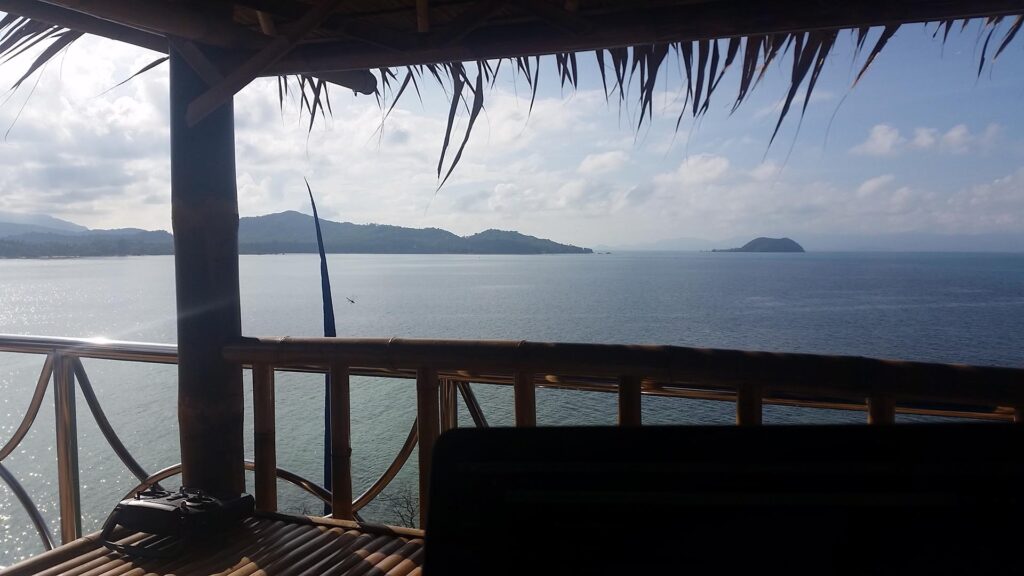 #codeanywhere #greatview #codingday
How did you reconcile work and travelling? Didn't you have any problems with that?
For most of the time I've stayed in one place, on Koh Phangan island, which made things quite easy. All in all, there were few periods of total unavailability for me due to being, for example, on a plane. When I wanted to relocate or spend some time in more secluded, Internet-less areas I simply chose weekends or took a couple of hours off or worked early in the morning. Speaking of the Internet, the bandwidth was better than anywhere else I've been lately, including Poland. Praise the optical fibers!
Any fixed hours?
We have one solid meeting time with the team during workdays. That's the daily stand-up call on Google Hangouts at 11am, which was 5pm in Thailand. Apart from that, we communicate mostly via Slack since we're a bunch people with different working habits so it's never "9 to 5" for us. And when a need comes to have a sprint planning or a longer meeting we just set up a date and time that suits everyone. Not much of a hassle there. Even with the daily stand-up it's not an issue for anyone to just have a short update on Slack. This was a blessing for me really as it allowed me to attend Muay Thai trainings which took place between 4 and 6 pm.
I'm really very lucky to work with a team of very dedicated and talented developers who are flexible and responsible enough to make all of our different habits and professional needs work together seamlessly. Also, our clients are very open minded and we all communicate with them on a daily basis. All of these things really make my job as a scrum master a piece of cake.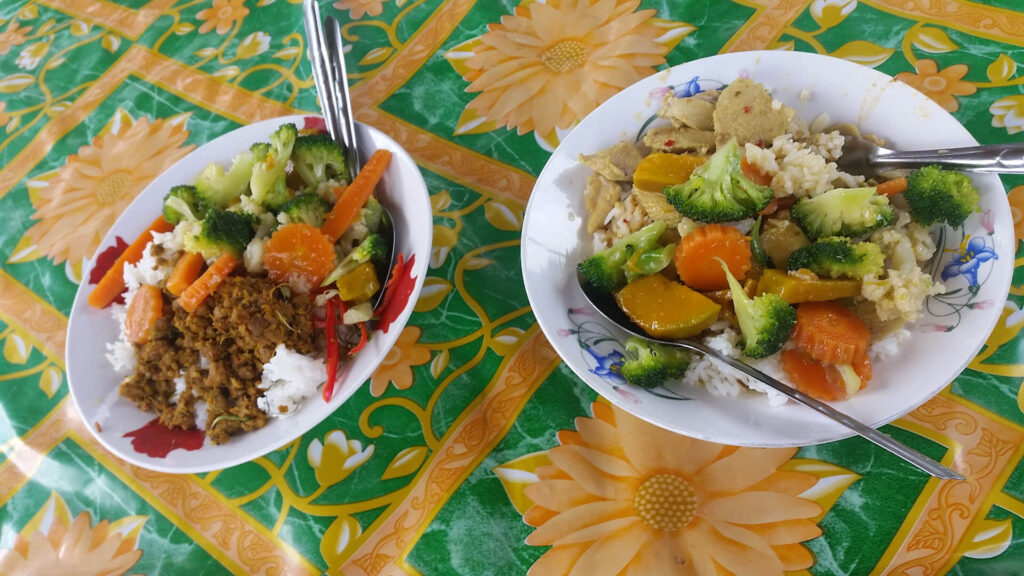 #thaifood #enjoythefood #yummy
I'm asking since the different climate, the sun and beach – all of these might be very distracting factors when it comes to work.
Definitely not for me. In fact, it was easier for me to work there than it is now when I'm back in Poland (just don't tell that to anyone). That dose of sunlight and the ocean under your very nose does wonders to one's motivation. Even the time difference worked in favour for me. I'm personally a developer who sometimes has difficulties NOT working. I need to watch out, and from time to time literally force myself to stop. And in addition, while you're also managing a team there are times when it might be hard to find some peace to actually write some code. That part was really amazing. I was completely undisturbed every day from morning to until 1/2pm, since most of my team was simply asleep and I could code as much as I wanted. You can't get that even by turning off all notifications.
What do you think of Thailand? What kind of associations do come to your mind when you think of this country? The culture, cuisine…
Food! Oh my, you can't get enough of that. Currys, Pad Thais, spicy soups, shrimps, fried bananas on a stick, and fruit, so many of them and so cheap. I'd sell my soul for a pitaya right now. And caramelized bugs, of course, but I can only look at those. Food markets were one of my favourite things. Besides that, the weather – of course, though not all aspects of it. We experienced some heavy rains, but the sun, the breeze, walking barefooted half of the time was awesome. Seriously, I could barely walk when I got back and had to wear winter shoes.
The people are amazing too. There are no difficulties communicating in English and when that fails, you can just move your hands and get what you need anyways. Very open and warm! It was really nice to just be anywhere, the streets, the gyms, everyone favouring you with a wide smile. The views are spectacular, waterfalls, huge trees. If you want to go dive and see some coral reefs you just grab a scooter and jump into water in a scuba suit in 15 minutes. You just want to be close to all of that.
Could you live there permanently?
No, I couldn't, I have a temperature limit and begin to melt in temperatures over 35 Celsius, so winter there was perfect for me.
So… an exchange – living in Poland during the summer, and wintertime in Thailand?
Yes please!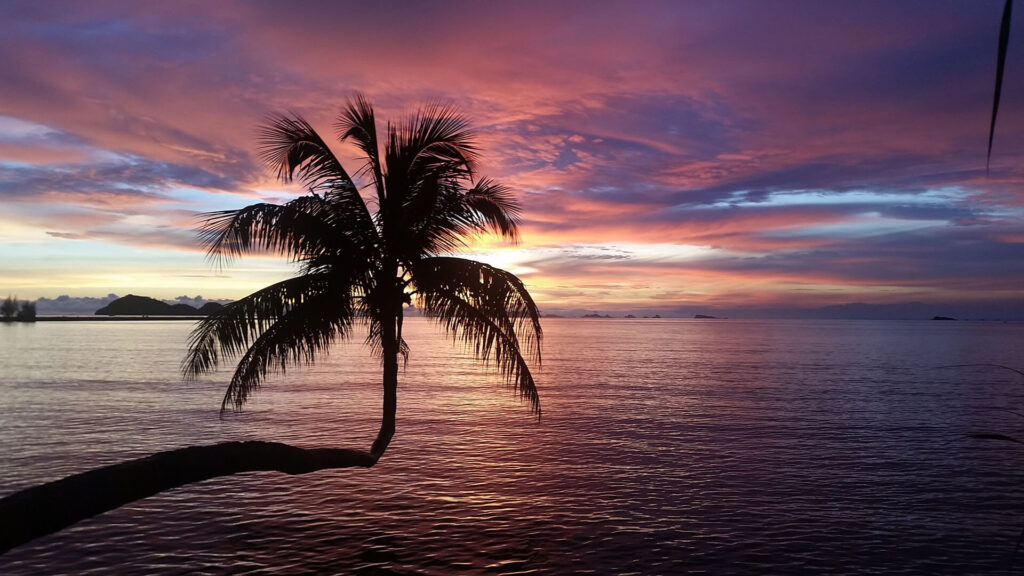 #sunsetinthailand #welovetheview #ocean #wonderfulisland
The distance can make the work harder when conditions in some places, like those that don't allow access to the Internet. Sometimes you may have no electricity at all! What did that look like during your stay?
A basic move is making sure the place you stay has a good Internet connection and preferably a power generator. More about that in a moment. Plus, the first thing you should do after grabbing your backpack at the airport is buy a local sim card. Thailand has a great LTE range, even on the sea between the islands. This really comes in handy when you have a project deployment and somehow you find yourself on a ferryboat going for a dive. So good you can do all those things over the phone! I'm not joking, this has happened.
The only serious situations I've experienced were power outages all over the island at the end of my trip. There were a few days of really heavy storms and parts of the island got flooded. Thai electrical infrastructure is not quite what we're used to, and there was a 4 or 5 day blackout. No power of course means no Internet, but luckily the locals are prepared for such situations and most places have power generators. So all I had to do was grab a scooter and find a cool cafe that happened to be "plugged in" and turn on a hot spot from my pocket.
You also lead a project. So what kind of challenges do you meet as a team leader/project manager/scrum master?
There are some tasks that I'm solely responsible for, like some parts of the scrum process or making sure my team is happy. However, most of those aren't activities I can't pass to someone else at any time, during connection difficulties, holidays, or any other unavailability. All I have to do is communicate "Guys, I might disappear from time to time, power is gone again" or "AFK (away from keyboard) for 30 minutes, I have to catch a stray gecko or I won't be able to sleep (they make sounds like roosters!)". I have the privilege of working with people with a very flexible attitude. It's not an issue for us to swap tasks and responsibilities in general, according to a present need. I know I can count on my team in any situation.
*Natalia started working for Espeo in February 2016. She was hired as a Front End developer, but in the meantime she's also become a Scrum Master and a project leader.